I would have first met Roger Baert when The Flyfisherman opened its doors in Harwin's arcade in Pietermaritzburg in 1981. I was a mere high school kid, and to be honest, my memory of that time is hazy, but in a kind of misty, reverence-imbued haze. In the couple of years that followed, I remember looking forward to the shop's catalogue. Mail order was strong then. I would pour over it at school, and then visit the shop and kick tyres and contemplate what I could afford.
Later, at varsity, visiting the shop on a Saturday morning (if we weren't fishing) was something of a pilgrimage for us. We probably made a nuisance of ourselves, because we never had cash to buy anything, but this is where Roger comes to mind. Roger never treated a customer according to his or her wealth or likelihood of making a purchase. He was no less generous of his time when it came to students like me, who bought our rods at the hardware store, and just left drool-marks on the wares in his shop.
Roger was quick to offer advice, generous in parting with a free sample here and there, and a good listener. At some point, the shop accumulated a library of videotapes (good old VHS!), and my friends and I booked those out, played them until they stretched, and kept them way too long. Roger encouraged us.  When I tied tiger flies for the shop, Roger paid me cash, and let me buy the requisite materials on tick…..a questionable business practice I might say, but he kept tabs and gently coaxed repayment when I wasn't looking too lean. He dispensed help, and off-cast Orvis components when I built a few rods, and he would call me up to tell me if he had a special deal or product that I had asked after, even if it was months before.
When we stocked a farm dam with Trout and then couldn't catch them, Roger came out one Sunday morning, dispensed tips, and got me into my first Trout from our home dam. I remember that morning. Roger was late. He explained that he had stopped on the road into the farm to admire a duiker for over 20 minutes……
Many people remember Roger as the guy who brought the first float tube into South Africa. That is something I remember well, because Roger lent me that tube for a very long time. He lent it to PD and other mates too, and many of us held onto it for a year or more. He was never in a rush to get it back.
I recall catching a lift with Roger to attend a fly-fishing competition in the Transkei. He had recently acquired an Audi automatic, and he drove that thing like a hellion, with forced gear changes, sudden braking for assorted livestock, and some stunning cornering. When we took a roadside break, he offered me ultra-strong black coffee with no sugar from a flask, which I tried, but only once.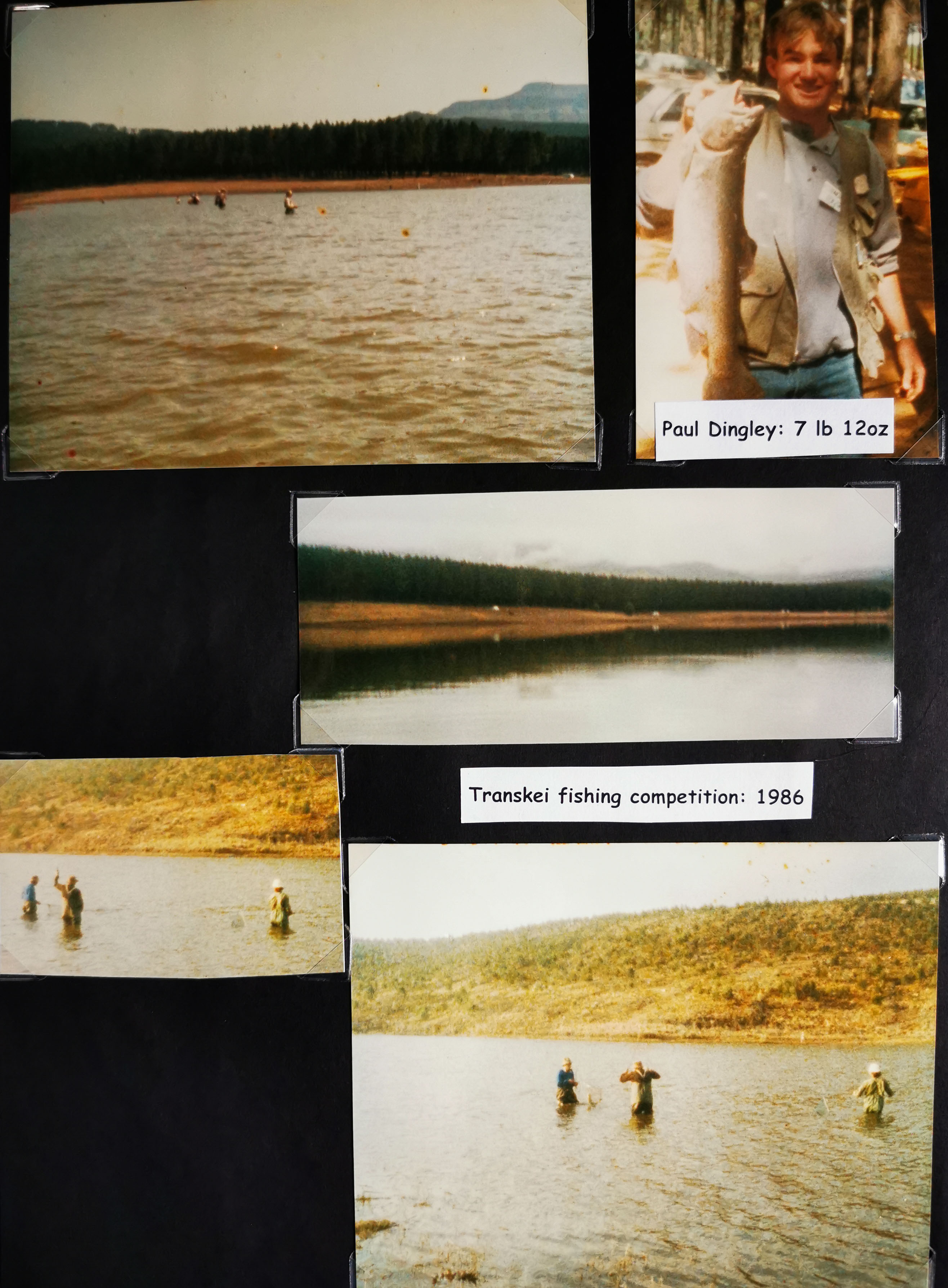 Skip forward a few decades, to when Roger and Brigitte moved to France. When they left, things were a bit rushed, so we never got to say farewell. On their first visit back, we held an event at Chamber House at the Maritzburg showgrounds, and Roger filled us in on his (very limited!) fishing in France.  I remember Brigitte got up and took the podium briefly to invite everyone present to come and stay with them in Paris. "But not all at once" she added hesitantly to peels of laughter.
On that visit, and I think every subsequent one they made while living abroad, I made a point of taking Roger fishing. He would phone me from France. He explained that he had some strange contract which allowed him to phone South Africa for free and for unlimited time.  Roger was not one to pass up a good deal, so he stayed on the line until we had both run out of things to say, or grown too hungry to carry on.
Although I had known Roger for many years, it was on those well-planned days out together that I truly got to know the man.
On one occasion he told of how he had given over a rare bamboo rod to a French rod maker, who wanted to restore it and keep it. In exchange, Roger was promised a brand-new rod by the maker. When that brand new rod arrived, Roger was stunned by the workmanship, as was I when he pulled it out to show me beside the dam. But when Roger (then 80 years old) headed out for a 7 hour stint on his float tube, he rigged up his one-ounce, 4 piece  graphite rod, and took just the butt of the masterpiece with him. I looked at him enquiringly. He explained. He had a dilemma. The rod, for all its beauty, was an 8 weight, and Roger had no intention of fishing anything that heavy, but he wanted to share a photo of the rod's first African Trout. A plan was hatched. When the first fish of the day was caught, we paddled closer to one another, and I said "Roger, hand me that there plastic rod", which he duly did, and with the graphite safely out of the camera frame we photographed that Trout stukkend, next to said bamboo gem.  
Then one spring day, beneath a creaking tree beside a midlands dam, dressed warmly against the cold wind, our conversation drifted off into distant countries and times.
We would have dressed out Roger's old story of being ordered to catch a hundred trout for a dinner for the Shah of Iran, and his exploits with his brother in Europe.
Then Roger began to speak of his early childhood in China. He stopped suddenly and asked me if I had seen the movie "Empire of the Sun". I had, and I remembered it well. It had left an impression on me.  "Well", said Roger," That youngster on the quay who lost his grip on his mother's hand in the throng of expats trying to board the last ship out. That was me."  He had my attention. "except that I didn't lose my mother's hand, and I made it onto the ship".
Roger proceeded to tell me the remarkable story, and how, after witnessing the bombing from a hotel window, just as the youngster on the movie had done (Roger said they captured it perfectly in the movie), they were bustled onto the ship, which happened to set sail for Lorenco Marques.   On that ocean crossing, Roger's father ( a Belgian diplomat), decided that he would make his way back to Belgium one way or another, and enlist to fight in the war.
In Lorenco Marques, his Dad set off on a tour of the city with the resident Belgian attache, while his wife was to get the kids and baggage onto the next ship out, which was leaving that day.  Roger's mother made as if to dutifully comply. Secretly, she was having none of it. She had no desire to lose her husband in a war. So she arranged for the baggage to be removed from the ship and the tickets cancelled while he was out on his grand tour. When he came back, fashionably late, and with moments to spare before the ship blew its horn and the gangplank was raised, he learned that he was no longer going to war.
Other ships departing to Europe were either full, or not to be had, so Mr Baert was instructed by his superiors to report at the Belgian embassy in Pretoria, South Africa, and resume duty there.
And that, is how we got to have Roger Baert in South Africa.  
I am sure you will agree with me when I say that it is an honour to have known the man.  Roger died this week. He was a gentleman of the highest order, and my fond memories of him will endure.