Delicate Presentations.
A flyfisher's novel
by Andrew Fowler       Price R299 
(Dimensions  130mm X 190mm, and weighing 355 grams )                             
You will be guided through payment and delivery options on the Woodsman Wares website.
The book in a nutshell:
In 1947, Neville Nuttall wrote about three pests on the river: The guy who cuts in on your water, the loudmouth, and the poacher. More than 70 years later, Andrew Fowler searches out "Popjoy", "Peabody" and "The Oaf" to find that they are a bunch of ordinary guys. Despite their early blunders, they have grown into a fairly respectable bunch of flyfishermen albeit with the sort of idiosyncrasies inevitably accumulated by a die-hard group of local anglers. The book takes the reader through a year of their flyfishing in the midlands and Drakensberg of Kwa Zulu-Natal, South Africa, exploring histories,  topography, local lore and the Trout fishing itself. The reader is invited into their local watering hole, onto their streams and stillwaters, and to share in their banter and the planning of their trips.  Woven into the story are vivid descriptions of the countryside in its various seasons, together with an unfolding compassion and friendship of loyal friends who rally around to support one of their number through a life-changing year.
Praise for Delicate Presentations:
"a good read , half way through , a talented writer, a must have for the Kzn fly fisherman" Barry 
" Very very enjoyable!  The book is so well composed"  Luiz
" I am super impressed. I really thoroughly enjoyed it. So well constructed"  Ryan
"A hallmark of a good fly fishing book is that it also makes you want to go fishing, and Delicate Presentations will do that for you and more"  PJ Jacobs, The Complete Flyfisherman Magazine.
A few video snippets about the book contents:
There are no fewer than 52 drawings, by artists who have  generously contributed to this project.
The book is also available at the following retailers: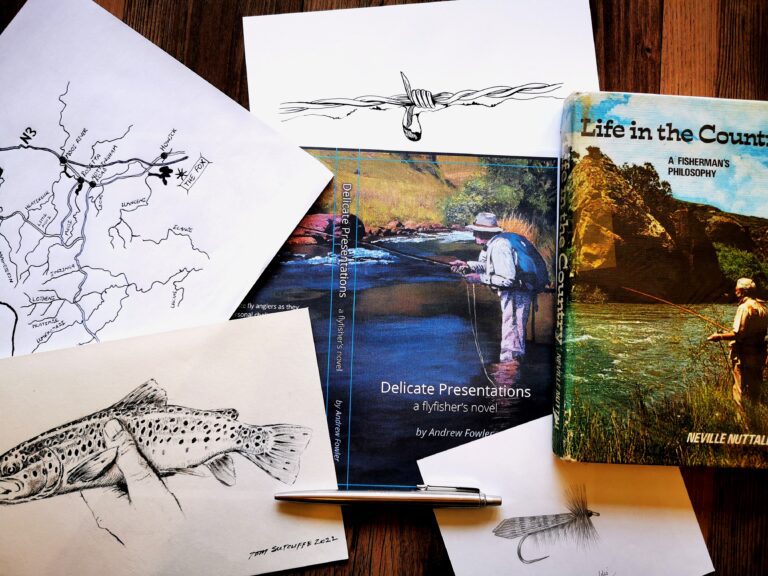 From the Bungalow to the Berg, a flyfisher's sabbatical, 
is a short story of eight days spent fishing the Mooi River from "The Trout Bungalow" to the headwaters, in October of 2016.
Just 200 copies of this small colour booklet were printed exclusively for guests of a fundraising dinner of the Natal Fly Fisher's Club, held in 2017
Published in 2015…………
Stippled Beauties. Seasons, Landscapes & Trout
by Andrew Fowler                                     (210mm X 250mm)

This is Andrew's first book. It is a rich and colourful tapestry of images and stories collected over more than thirty years of flyfishing. The book is poetic and nostalgic in places, practical and technical in a few of the essays, and in general is a work of appreciation for the natural world through which the flyfisher moves.
The proceeds of this first [limited]  edition were  donated to an environmental initiative in which the Worldwide Fund for Nature (WWF) , Duzi-Umgeni Conservation Trust (DUCT) and the Natal Fly Fishers Club (NFFC) worked together to restore a section of the Upper Umgeni River as a fishable Trout stream by removing wattle, bramble and logjams .
The  310 page book contains over 250 colour photographs, which, coupled with the text, give the reader an appreciation for Andrew's home waters and surrounding landscape.  Andrew takes you through stories from his first Trout, to schoolboy mischief with a fly rod, to his own poetry and more.
Second edition softcover books are still available.
---
Praise for "Stippled Beauties"
I have just finished sucking the last precious drop off the last page of your beautiful book. What a fantastic read!!!! There are very few authors that manage to let the reader smell the veld and taste the air and you are certainly one of them. In my opinion this book was right up there with work from John Gierach, Tom Sutcliffe and Thomas McGuane. The only problem of course is that you are going to have to write another…..  Robin Douglas
#
 I've been meaning to write to you to say how much I enjoyed your book. It made me extremely homesick for the waters of KZN which I spent so much time exploring, and which I love so much. I share your deep sense of attachment to place and the intimate knowledge which one builds over many years, but yours far outstrips mine of the midlands region. I also learned a huge amount, though you manage to impart information with a light and deft touch.
Great stuff, and truly enjoyable read!…. Duncan Brown…author of "Are Trout South African"

#
 "This well-written, captivating book is not just about fly fishing for trout. It is a delightful collection of Andrew's personal experiences and anecdotes, his fascinating piscatorial journey, seasons, people and the places he has visited, as well as conservation and his philosophies. In this book he touches on many aspects of fly fishing with each element handled with the knowledge and wisdom that comes only from many years of experience – sensitivity and insight."...Peter Brigg, author of "Call of the Stream"
#
"There are times when his writing is reflective, even poetic, which, to my mind, are delightful additions to any serious work on fly fishing, which this book certainly is."……. Tom Sutcliffe, doyen of South African flyfishing

#
"Andrew Fowler takes us to his home waters in South Africa. Beautifully written and thoughtfully put together. If you are a fly angler you'll love this."  … Eat Sleep Fish magazine UK
#
"Some books you just want to hold in your hands and have in a place of honour on the shelf, and this is one of them"  … Andrew Levy in "The Complete Fly fisherman magazine"
#
Stippled Beauties was voted book of the year 2016  by readers of Tom Sutcliffe's monthly newsletter "Spirit of Flyfishing"
–     #     –
---
Pricing:
FIRST EDITION hardcover :  (sold out)
SECOND EDITION softcover:   (sold out)