Current Fly Fishing Conditions
I am not a full time, reliable source of all water conditions, but I endeavor to share as much news on Current Fly Fishing Conditions as I can . My info is Trout centric, and is gathered from my various trips (fly fishing and otherwise) across the KZN Midlands, and stuff readers and friends tell me about. I don't blow fishing spots and I don't cover the whole province. The news is mainly about rivers in the area from the uMkhomazi basin in the south to the Injasuthi in the north, with some stillwater info thrown in here and there.
If you have crossed a bridge, or visited a river, and would be willing to share your news, please do drop me a mail and I will share your news with full acknowledgement.
(andrew at truttablog dot com)
I hope this page is useful to those like me, who are always seeking out opportunities to get in a few hours fishing here and there.
If you asked me to meet you at a coffee shop to get the lowdown on where to fish, you would probably buy me a coffee for my troubles. I would be most grateful for that. With the "Buy me a coffee" function below you can now do that online if you so wish. Of course there is no obligation, and I will continue to provide these updates free of charge and for the common good of fellow fly fishers.
Enjoy.
Check in: 25 November 2023
What a week!  We had an awful heatwave. Last night and this morning it stormed several times, which has thankfully cooled things down a whole lot, but the sun came out for an hour earlier, and it was instantly hot again. The weather forecast for the coming week still shows some high temperatures.
You know how they have an "off season" in the northern hemisphere when it snows in winter……….same but different here. 
Check in: 20 November 2023
Saturday and Sunday were hot as hell. Saturday saw a particularly ferocious storm in the vicinity of the Furth stream catchment, and despite the source of the uMngeni not getting any significant rain, that tributary, and some road  runoff turned the uMngeni filthy at Chestnuts. Who knows what happened in the Kamberg, at Lotheni and over the Bushmans. We are in full 'summer unpredictable' mode.
Case in point: Today I heard that a heatwave is forecast for the whole of this week, but today isn't nearly as hot as the forecast predicted.
We are starting to get water warm enough to consider not fishing at all, or at very least, limiting forays to the high altitude white water sections, with a lighthearted attitude and an eye for birding, or photography. 
I have just scanned my weather app for a cold front.  I didn't find one.
Check in: 12 November 2023
The rivers are flowing fairly well, but as at yesterday (before the widespread storms that may well have changed all this) they were all clean, and looking pretty damned good.
I bumped into a friend on the roadside who reported the Injasuthi in similar condition, and certainly the Bushmans, Mooi and uMngeni which I have seen this week, were looking great. Despite waters temps from 18 degrees C to as high as 21 degrees, fish have been on the move. Just yesterday they were taking dry flies, it would appear, in preference to our nymphs, even through hardly any fish were seen rising through the day.
Check in: 24 October 2023
Current river conditions in pictures
(taken in the last 24 hrs)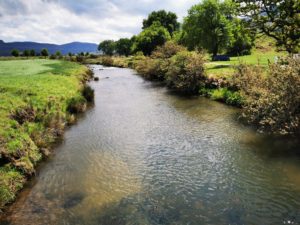 The Mooi at Riverside (above and below)
Reekie Lynn stream
The uMngeni at New Forest
The Poort stream at Umgeni Poort
The uMngeni at Chestnuts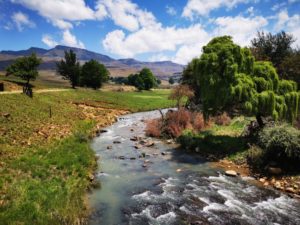 The Inzinga at Belmont
Lotheni River
Check in: 22 October 2023
I was up on the uMngeni on Thursday…right up at the top. After the 40 or 50mm of rain a few days prior, the levels were good, but the water in the main river was clear again. A friend of mine had visited Chestnuts on the week-end and found it like liquid chocolate. The Furth stream was flowing stronger and just a little coloured. I got a look in at the top end of Chestnuts and Boundary Pool  was looking absolutely sublime: deep green and cool. 
But an hour or two before that I shot this quick video much further up:
19 October 2023
So we went and fished it yesterday on a hot morning with the pressure falling ahead of predicted storms and rain. We saw the odd fish, and managed to catch just a few small ones, but they were hardly 'on-the-prod'. The storm chased us off a little after midday, and last night it rained all night.  I think there has been another 2 inches of rain!
Check in: 14 October 2023
Some rainfall has arrived, but thus far it is scattered (the weather forecast says more this week, but for now there are still dry zones).
Underberg is dry, and it seems that the uMkhomazana, uMkhomazi and Lotheni are still clear and low, with no evidence of runoff.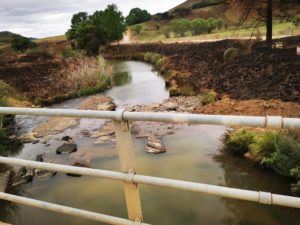 uMkhomazana River 14 Oct 2023
uMkhomazi River 14 Oct 2023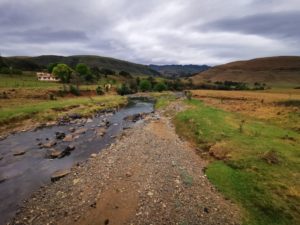 Lotheni River 14 October 2023
The Inzinga and uMngeni however , have had some runoff, and it shows because a slug of winter's road dust has entered the rivers (certainly down at the bridges on the Dargle/ Impendle/Stoffelton roads) and has turned them an awful opaque colour . But the levels have hardly risen, so they look awful:
uMngeni at Chestnuts 14 Oct 2023
There is quite decent rainfall forecast over the next week or so, so let's wait and see.
Check in: 06 October 2023
some footage showing the upper uMngeni today, so that you can get an idea of conditions
Check in: 04 October 2023
There has still not been any significant rainfall, and we are currently in a very hot week, with no decent rainfall forecast. The rivers are low, and algae growth is rife in some rivers like the Bushmans. A dreaded dry spring is unfolding……
Check in: 26 September 2023
A quick check in at the upper uMngeni after approx 15mm of week-end drizzle. 
Check in: 15 September 2023
OK, so we had a bit of snow , but I think the volumes were small.  I looked at the berg above the uMkhomazi on Wednesday and there were just dustings left, and it was warm again. There really wasn't enough moisture or rain with it to lift flows at all. So rivers remain low and clear, and the algae is becoming prevalent. For NFFC members, The Mooi is closed at Reekie Lyn as is customary for that beat: it opens when we have had some rain. A couple of uMngeni beats are unfortunately lost to the club. High up the river, water is really thin. So its kinda the Bushmans in the community area in terms of rivers, otherwise stick to the stillwaters until we have had some rain.
Check in: 10 September 2023
It seems that not a lot of people have ventured out onto the rivers, and I guess that is understandable. Water levels are low, and visibility is high. That is to say the fish can see you coming, and I think most flyfishers crossing a bridge slowly (as we do) would think "Heck no!".
My mates and I have had a couple of ventures onto streams, and sure enough, they can see you coming.  Mulling over my fishing yesterday I postulate that when the sun was behind me, or a steep bank cut my silhouette, added to some wind-riffle on the surface, was when I caught fish. Anything else and all I did was spook them.
Water temps on the Bushmans have been up to 17 degrees C, but a 13 degree reading came from a friend of mine yesterday. The algae on the Bushmans down on the tribal water (which is where you go to find more flow) is something else!  Big gobs of it floating down at you like rock-snot.  Not pretty, but my-oh-my the fish are hungry when they are not spooked!
The uMngeni isn't as full of algae for some reason, and the Mooi….I'm afraid that is a bridge I haven't crossed. If you have, please do drop me a line. 
I see from social media that one particular NFFC stillwater produced two monster fish on the same day recently. A high altitude lake which I have access to continues to produce fish, but not of any great size and everyone who visits seems to use different flies and methods, so I can't really nail that "silver bullet" method to feed your curiosity
Check in: 3 September 2023
It seems the fish have been "on the prod".
While I was on the uMngeni river on opening day, my pal Scotty was just above me on a stillwater. He conceded that his time was easier than mine. I found thin water in the high altitude trickle that calls itself a stream. It was crystal clear and the small fish I found hiding in shadow lines and rare patches of depth were skittish as hell. Scotty did better . Damned well in fact, with two fish over 20 inches.
That same day my pal Ray was out on the river (17 degree water temp), and he posted pics on our group of some browns that met with a number of single syllable exclamations in reply. 
For mere mortals who had to wait until the second of September, things were no less glorious. My friend Richard sent me a pic of his 14 incher from the river, and Neil and I had lots of action down on the lower reaches of the uMngeni.
There I struggled for nearly 2 hrs with a dry fly, before meeting up on the bank to hear that the fish were after more calories than that, and would eat a chunky thing sunk deep. Results followed.
Rivers are low, but those who have fished a few decades will tell you they have seen much worse. The good summer rains replenished the water table such that flows, all be they low, have some sticking power, if you know what I mean.
Au_GUST it is.  Blowing like hell today, and yesterday up at Impendle was pretty bad too. We have had our fair share of the wind one can expect at this time of year.  Also, notwithstanding a great summer in terms of rainfall, the rivers are dropping very low. That is because autumn was actually quite dry, and because the snow we have had so far has not been significant enough, or has not been accompanied by enough rainfall, for us to get runoff.
September is the month of the year in which we are most likely to get snow, so I am watching the weather forecast eagerly and hoping for a flush of cold water to kick the river season off. 
So I have been stopping on bridges and peering into rivers of late, and to be honest, they don't look great. Clear, sure, but low!
And with the warmth having already crept into the season, the algae is starting to grow.
So for opening day on the rivers, I am honing my sights on some of the lower beats, where there is more water and big post spawn fish may be out looking for calories like a student after a night out. 
In the week of "stillwater only" that is left before the season opens, I may have a throw somewhere, but I must say I haven't done well in the last few trips out, so if the warmth and wind is anything like today, I might dismiss my usual advice of "get out there" and stay home and tie flies for the river season.  Or not…..
Right….That problem I had, as described in the post below…I have fixed that…I have been fishing..
Winter can be a somewhat random time. By that I mean, you can arrive at the waters edge, see little action, try out a few things, and sometimes you hit the jackpot, sometimes you hit zero. 
A week back I hit the jackpot, and I thought I was very clever. It was at a particular spot along the shore, in a howling gale, with the pressure plummeting, and I made a pig of myself. The next trip (predictably perhaps):  Niks. And the next trip. Niks. Then yesterday I picked up 2 very nice fish on a small brown dragonfly nymph (yes…that pattern of mine).
What the above doesn't tell you, is that in between the long dull hours were patches of rising fish. Unlike some summer hatches, they were spread out. So a fish here, one 300 metres over there, another 50 metres out, and so on. You only get a few rises within casting distance, and that in itself is frustrating. The other frustrating part is that the 3 or 4 chances you have, don't make a decent sample in terms of experimenting with fly changes. So in my case I put on a team of flies…a floating parasol midge, and behind that a midge larva. I give it 3 tries on rising fish. It doesn't work. I make a subtle fly change, and then I don't see another rise. So I go back to fishing a dragonfly or a Woolly Bugger for a few un-eventful hours.
That's winter for you!
What I can tell you, is that the season seems to be quite late. In other words the last week showed barely a glimmer of warmth. Water was ice cold and clear as a bell, and fish were full of eggs. We saw fish following the fly, and yesterday spotted fish cruising along shale areas near the dam spillway. Mid winter stuff. In August.
But I suspect that as I type this, the warming will be starting. The weather forecast shows max temperatures of 21 to 24 degrees C in the next 7 days.
Snails and Corixae.  Time to add those into the mix. 
I just haven't got out a whole lot lately, so I am having to rely on what my mates tell me.
They are telling me that there are a few dams in the Kamberg that are producing fantastically, but only on the right days. Go fish them when its pre-frontal, or on falling pressure, or whatever it is that the fish don't like, and you would swear the dams are devoid of fish.
The next day some other guy goes and gets an 8lb fish, or 10 fish over 4lbs….yes…that really happened, and in the last 3 weeks!
I suppose you just have to go and try…put in the hours. That's what I am doing wrong at the moment…not putting in the hours. Gotta fix that…. but there is more snow predicted…oh well…
As is to be expected, we had some pretty balmy weather in the lead up to today. During that time a few farmers confirmed my fears….that it is just my poor circulation that makes me believe we are having a cold winter, and in fact they are battling to burn firebreaks, because the grass is too green.  I had some fair fishing on a mild afternoon up in the hills. You could call it warm if you like, but hell, when the sun disappeared over that hill…..Anyway….it is snowing as I write, so all that changed in a heartbeat. 
A friend and I were on a stillwater at the top end of the Dargle on the weekend. We encountered water around 9 degrees C, and air temps topping 16 degrees and down to 4 degrees when we left with the bakkie lights on. So I guess you could say winter is in full swing.
We bumped and scratched, and landed a few stockies, and one better fish, plus one stonker got off. It wasn't fireworks. I am told that the Kamberg competitions (Corporate trophy leg 1 and Trout festival) , saw some unfortunate weather, at least for part of each event, which put the fish down.  As always though, a scattering of big fish were to be had. That's winter for you!
A friend of mine gave the Mooi one last try on the weekend, and reported it as dead as a doornail. So with rivers pretty much done, attention shifts to the stillwaters. 
I have heard a dearth of reports, just the odd sprinkling here and there. We have had some pretty cold weather, and I guess that has kept many people home. 
The water temp plummeted on the uMngeni on Friday, and measured just 11 degrees yesterday (up to 13 later in the day). The water was clearing after being very milky on Saturday….just enough colour in the water to help a bit with skittish fish.  Fish of 3 lbs + continue to be spotted on the uMngeni, and reports of a 24″ fish near Tendela on the Mooi…so a bit of excitement, and maybe you could be forgiven for going trophy hunting in the last week of the season!
The long awaited cold front has struck. It is 10 degrees and raining here in Hilton.  The weather station I watch at the top of the uMngeni, says that its 8 degrees up there, and that there has been 6mm of rainfall in the last 24 hrs. So not enough to swell the rivers, but in any event, as soon as these skies clear, the frosts will start. And the Browns will surely be in full breeding mode. 
The river season is pretty much done. 
I have been out and about over the last few days and have looked over some bridges, and dropped in a thermometer here and there. I have seen temps from 13 to 19 degrees up and down the Mooi and Little Mooi, and clean low water everywhere. It has been quite dry lately, so the Mooi, Little Mooi, uMngeni, and I should imagine all the others are all running quite thin. It has been damned cold at night too. The river season really is running down now!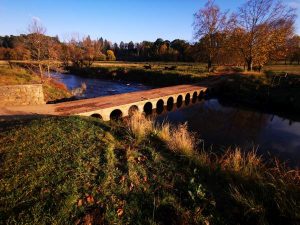 Its still perfect!  Everywhere.  If you haven't already gone: Go!
By all accounts the berg streams were (and are) rather busy with fishermen this long week-end. I have certainly encountered plenty of people with news of days out, from the Bushmans, Mooi, uMngeni and other streams. Everything is clean and and cooling, with flow levels dropping fast.
There have been a lot of small fish reported everywhere, but I had days on all three of the abovementioned rivers, where I either saw, spooked, lost or landed some great fish amongst them. To get more specific: 4 fish of 15 inches or more, dozens around 10 inches, but a lot more than that of the tiddlers. Really big fish (19 inches or more):  Mooi 1, Bushmans 1, uMngeni 1…..that I know of. 
Many thanks to those who shared their news and pictures. Your secret fishing spots are safe with me!
Its perfect!  Everywhere.  Go!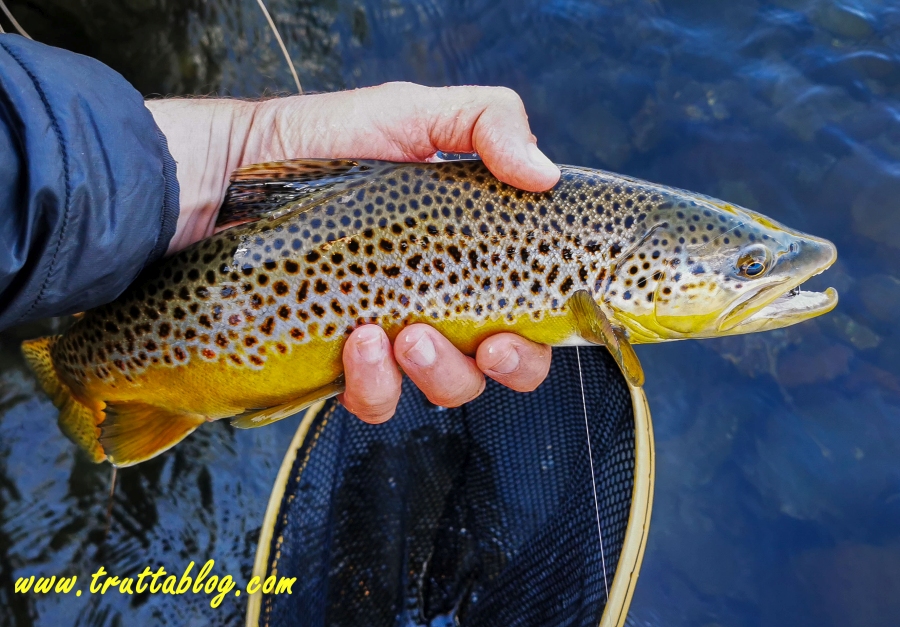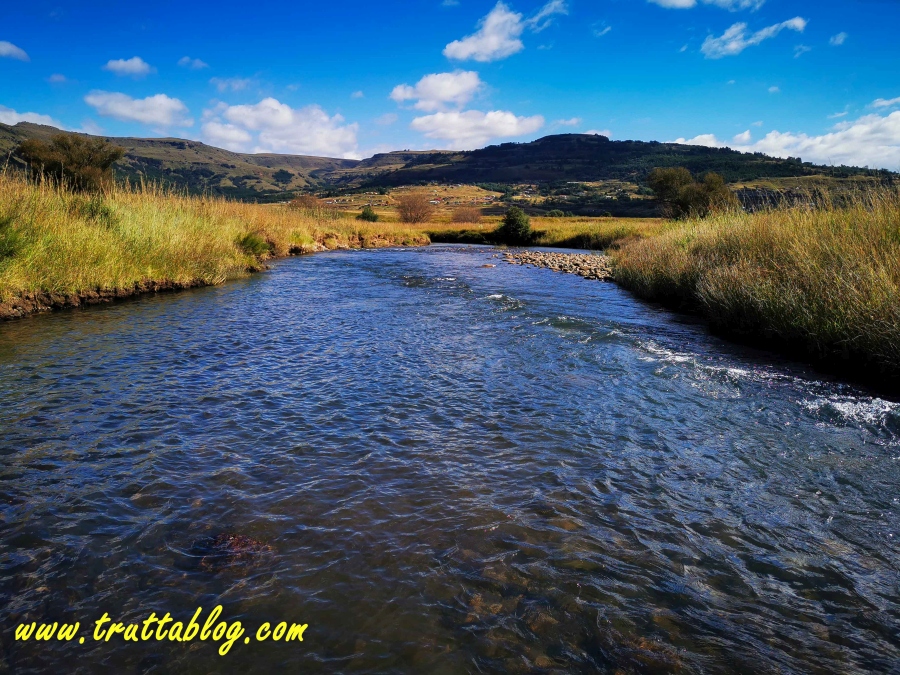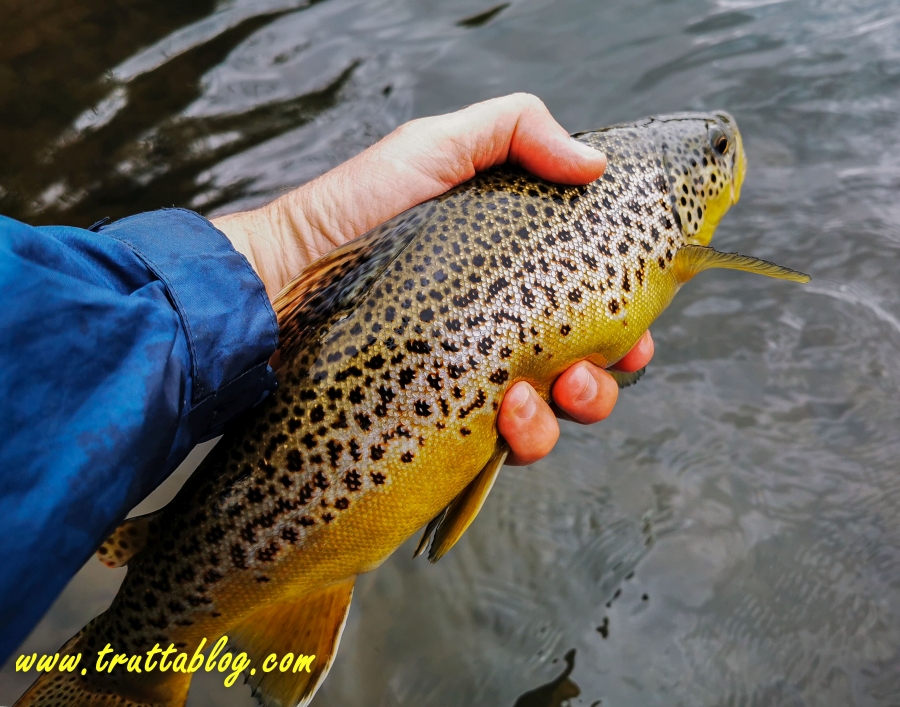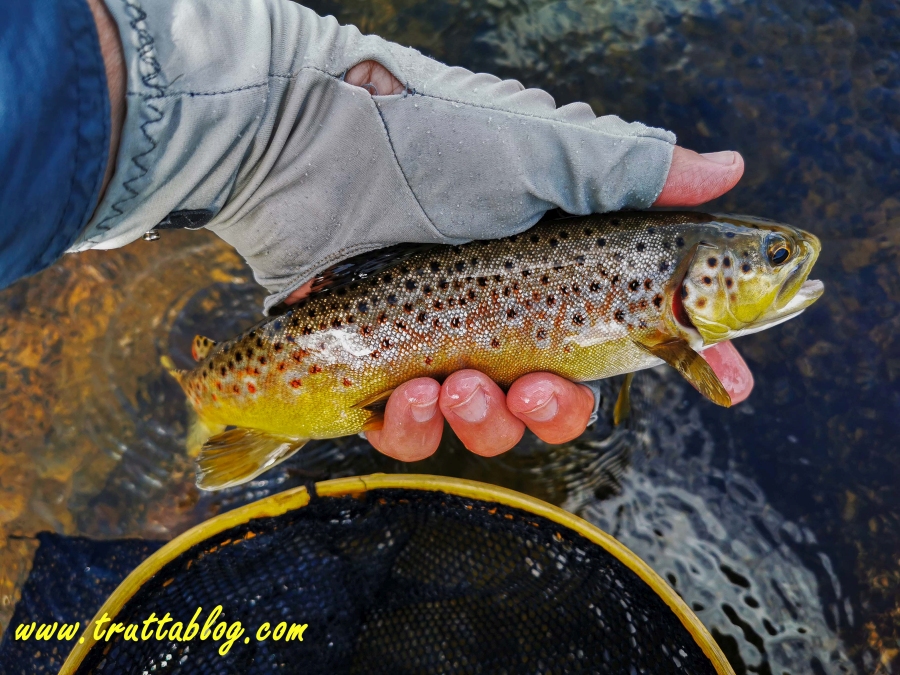 More of the same:  perfect  everywhere from what I hear. The news from the uMngeni, Mooi, Bushmans and Lotheni is all good, and plenty of Browns around.  We have had some storms and rain, but I have not heard of anything blown out.
I managed to get onto some Trout river water twice in the last week. On both occasions the conditions were sublime in terms of flow, clarity and temperature. Temps from around 17 degrees in the early morning up to a max of 20 degrees.
I know for a fact that the Bushmans and uMngeni are looking great…I think it is fair to assume that they are all in fine fettle. But cooler weather will be here in a matter of weeks, and flows are dropping, so there is no time to waste.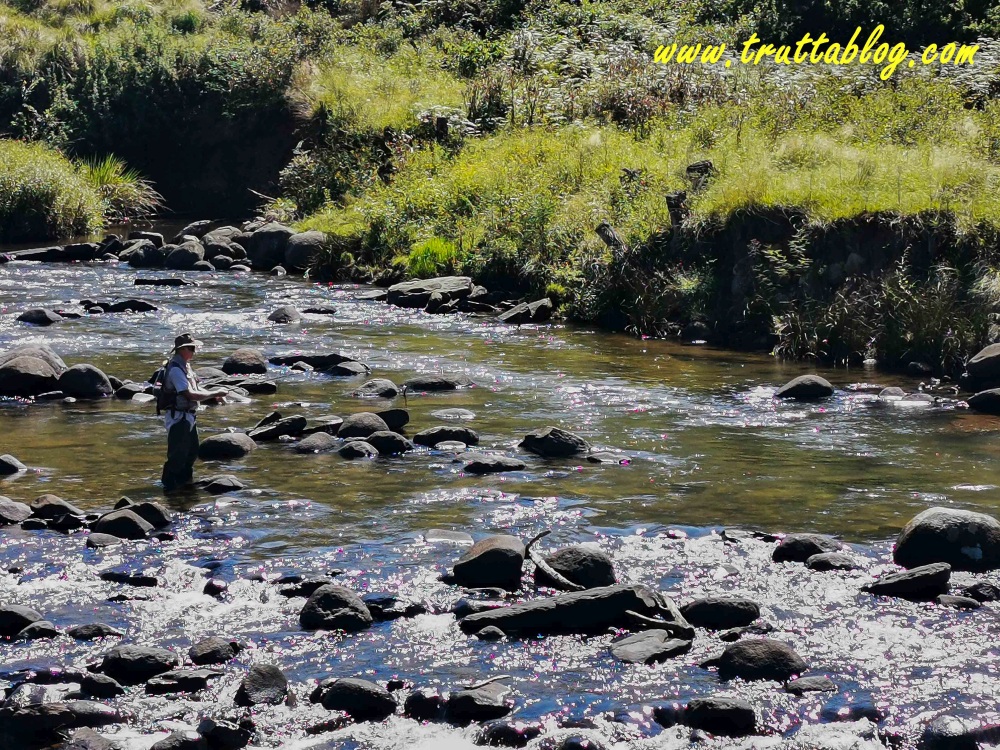 My Friend Richard tells me that the Bushmans was blown out on the weekend, or at very least flowing too strongly for his liking and chasing him to the tributaries where he caught some nice fish. 
The Lotheni and its tributaries  were looking great over the week-end, and I suspect that would have held true for all the uMkhomazi system rivers. Water temps were between 18 and 19 degrees.
Sunday evening's cold front has touched the air with the brush of autumn: sublime weather that tastes like Trout, if you know what I mean.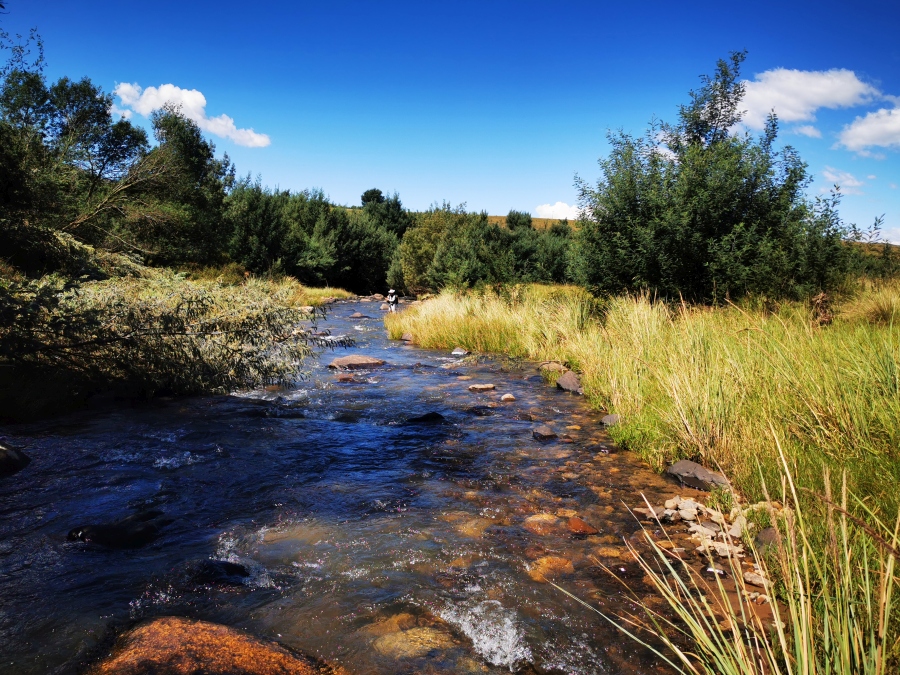 A Lotheni tributary
The uMkhomazi tributaries were all looking magnificent over the week-end. The Inzinga,  Hlambamasoka, Hlatimbe and Lotheni . On Monday night a wave of storms came through, which seemed to circle the berg  and Malungane and dirtied the Lotheni and uMkhomazi, and probably the Inzinga on Tuesday.  Lotheni was rather busy on the week-end, with quite a few anglers, and even more swimmers. The fish seemed to be in the pocket water, rather than the pools this time. Water temps hovered around  19 degrees C, and flow levels were perfect. The Hlambamasoka was as clean as cut ice, and also yielded some decent Trout. 
The uMngeni and Furth were crystal clear on Sunday when I crossed them, and were still that way on Tuesday morning.
Pictures on various groups show the Mooi was perhaps fuller than the rivers to the south, but clean, and reports of good catches from a number of different spots along the river.
Here's a thought: If you are fishing a river and discovered that someone has fished the piece above you, leaving you no option to fish water that has already had a fisherman pass that day, or perhaps the afternoon before:  What would you prefer…a fisherman who picked off  a few fish and moved along….or one who scoured every pool and run to see how many he could catch (leaving a high percentage of the fish pricked)?  
That question was pertinent this week-end when conditions were sublime and more fly fishers than usual were out enjoying our rivers. 
With the abatement of heavy rain, and a scattering  of reports of rivers looking "mighty fine", I think it is fair to say we are entering that sweet spot of the year when you need to be on a river. Reports from the Bushmans and Mooi are of beautiful conditions.
After storms both Thursday and Saturday nights, the uMngeni was coloured again at Chestnuts on Sunday morning. The Furth Stream however, is full and clean!
If you go to fish this piece, I recommend fishing the first 3/4 (three quarters) Km above the confluence with the uMngeni. Then skip the next bit of slow, log and bramble infested river….take the farm track and walk about a km or more upstream and cut back in at the stream. When you start getting to the "staircase water" of plunge pools between jumbled rock, and you can hear the waterfall and see the forest on the south bank…..then you are in the sweet spot. 
Furth dam was also a bit coloured by the rain, and the water temp was 22 degrees! 
Saturday's recce took me over the uMngeni and Furth stream (which were both looking great), and also over the uMkhomazi at Stofffelton bridge, where the river looked fabulously full and clean.
The Lotheni was almost as clean as the uMkhomazi, but also very fishable indeed. Especially so up in the park. The Hlambamasoka was slightly more milky than that, but fish still came up for a dry fly there. Water temps up there : 18.5 degrees C, which is pretty respectable.
I heard that stillwaters in the upper Dargle area are still at around 21 degrees C first thing in the morning, and on a sunny day the surface areas will get warmer than that. So I am not rushing off to a stillwater just yet.
I am getting excited about the rivers though. While it is 29 degrees (air temp) here in Hilton today, our nights are definitely getting cooler, and all the more so up in the berg.
I think, rainfall permitting, our rivers are fast entering that autumnal sweet spot that is always so fleeting.
Use it or lose it!
Check in: 27 February 2023
I checked out the uMngeni on Friday afternoon. While its tributary, the Furth stream was sort of fishable, the main river was not….still quite considerably off-colour and very full.. 
The Lotheni was very full too, but clean, and apparently the Inzinga was showing signs of a significant flood event having taken place. Hopefully, as we enter March, some more predictable and ever so slightly cooler weather will come our way.
Check in: 17 February 2023
Reports from EVERYWHERE indicate excessive rain, and rivers blown out…from all the uMkhomazi tributaries, the uMngeni, Mooi, Bushmans..the lot. The prospects of a clean and fishable river this week-end are very low. 
Check in: 13 February 2023
I was up on the uMngeni at Sheardown this morning. It was humid and cloudy, and I thought rain was on the way. I was not wrong: the afternoon saw another downpour to add to the already swollen and off-colour river.
Check in: 7 February 2023
I did a drive across the upper uMkhomazi catchment, and stopped on some bridges and hills to look at Trout streams on my way.
Check in: 30 January 2023
It would appear that the heat wave is over. Forgive me for the lack of updates, but I was jaded, or wilted, or melted, and have only started to function normally now.
I did go fishing though:
The uMngeni, being a bit lower than the berg streams, was cooking. Meaning it was hot as hell…and fishing well too. Our Trout really have adapted. I Googled it and apparently all the Trout are dead. But they aren't, because they are tough African trout.
There must have been some rain somewhere Friday eve, because the uMngeni flow was up and it was cooler on Saturday, and slightly coloured. Saturday afternoon there were vicious storms  scattered randomly around. So while the rivers were running down and crystal clear on Saturday morning, who knows what they look like now.  I do know that mates were having action on dry flies in clean water on various berg streams the last two week-ends. They got some heatstroke too, but hey, didn't we all.
The uMngeni has materially altered after the floods of December…massive rocks have moved, as have logjams. New areas have opened up, new scouring, some pools deeper, some more shallow than they were.  I don't know how other rivers have been affected but with generally cooler weather predicted over the next 10 days, I can't wait to get out and explore. That is the beauty of an ever changing river.
Its all new!
Expect water temps from 16 or 17 degrees C after a cool night up to 21 (not 25 again I hope. Yes twenty five!)
Dams:  forget it…a big body of water doesn't cool down quickly like a river. Dams are too hot….off limits.
Check in: 16 January 2023
It remains fiercely hot in the midlands and the berg. Even up at 1500 to 1800 m altitude, temps are reaching 30 degrees C . Surprisingly though, water temps in the uMkhomazi and Giants Castle area, inside the park, are measuring as low as 18.5, even in the early afternoon.
The flow on most rivers is still high. The Ncibidwana and Bushmans were still very full and a bit slate-coloured yesterday, although definitely fishable. Rivers in the uMkhomazi are better.  The uMngeni at Chestnuts on Saturday was still off colour, but much less opaque and getting towards fishable quickly, no doubt more so higher up.
So really the main thing holding back fishing exploits is the human discomfort of this heat wave. Oh, and the fact that you are back at work….
Check in: 11 January 2023
It is fiercely hot at present. Temperatures, even at altitude are hovering at 30 degrees, and there is no respite on the weather radar.
The flow on most rivers is still high, and I reckon a few more days without rain for them to run down should improve your chances. There may be some reasonable water by the week-end, but the weather will still be searing hot.
Here is a quick look at the 2 branches of the very upper uMngeni as at today:
I checked on the uMngeni on Tuesday, and it was starting to clear, but still way too coloured for me. That was down at my usual check-in spot at the Chestnuts bridge. Then my friend Lynton checked in with me and told me about his fishing (and his son's) just prior to Christmas:  He confirmed…dirty water everywhere. But he did use a big black fly (for maximum contrast and for pushing water), and he had some luck on that.
Heavy rainfall warnings again for today and tomorrow.  This season really is unbelievable isn't it!
The Mooi was flowing fast today. Only slightly coloured, but going like a steam train: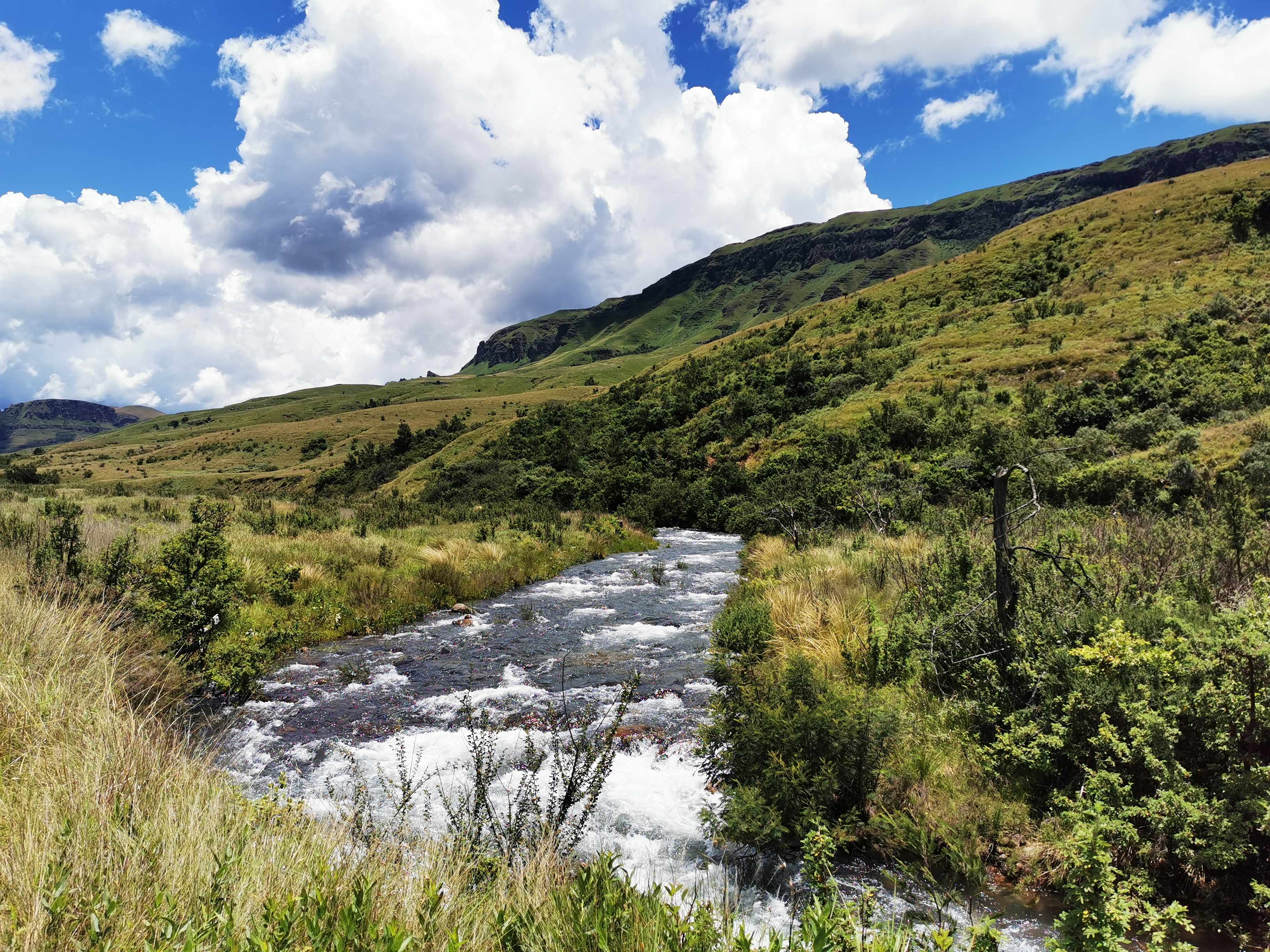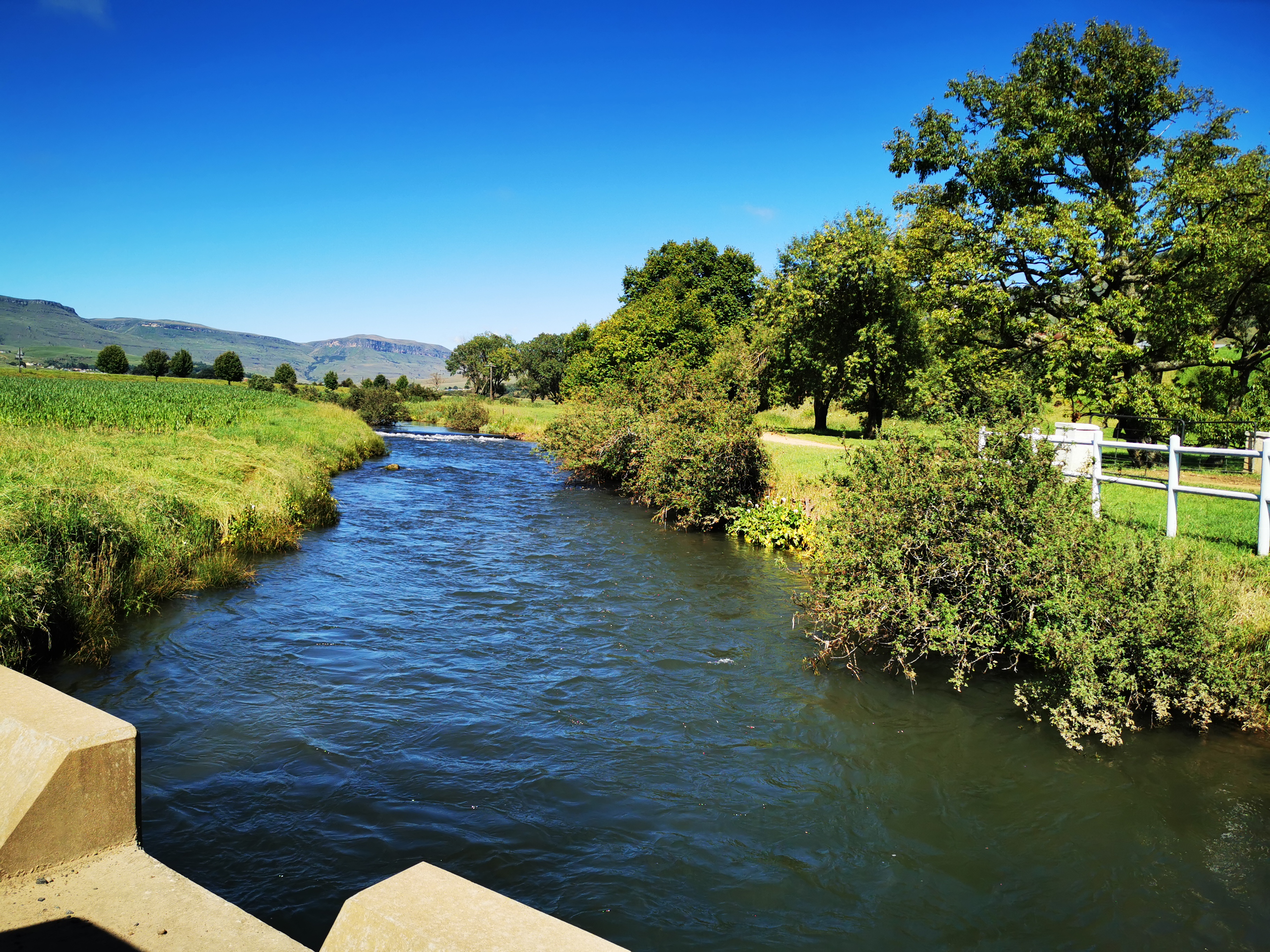 Other South African fly-fishing content