Nothing fuels the fires of nostalgic fly-fishermen quite like a fishing log.
There are personal logs, and there are those old books that the farmer keeps for his water. The one for which he calls you into the light of his kitchen, to fill-in before you depart.
They may be leather bound, or maybe just a simple book from the stationer in town, but either way the book will be tatty from age and use. And if it is not yet a little yellowed , just give it time.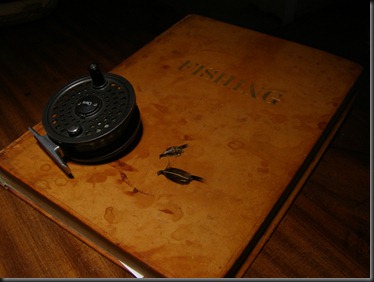 Time is what it is all about. A record of the passage of the seasons. Who fished, and which of them do you know? ' So and so's' late father, or someone you know, but you had no idea that he was a fly-fisherman, or that he had been here too. Maybe you will find your own name, or that of your old school buddy (long since emigrated), scrawled in boyish cursive from the days of fountain pens.


And as you run your finger down the rows, you will pick up a truly great season. You can swoon at the weighty fish that came to the net, and avert your glance to stare out the window as you try to remember where you were that spring (and why you weren't here catching these fish).
Maybe someone will have posted pictures.



The log will not be complete. Some fishermen departed by the back gate, or visited while the farmer was away at the coast. But it is a small window, which displays a tantalising sample, and somehow helps to place the day just done in the context of the history of the place.
You will drive off into the night, richer for having recorded your catch, and having read of other's. You will probably be energised to update your own log when you get home.