We have known for some time that fish grow faster in a dam (Americans read pond/lake) than they do in the hatchery. A hatchery you see, is a business enterprise. And a business enterprise had best watch its feed conversion ratio if it wants to be successful. In other words the level of feeding required for an optimum feed conversion ratio, is not the same thing as the feeding required for maximum growth rate.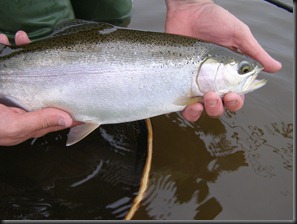 Our local fishing club  for a long time stocked 2" fish, and something like 8 months later stocked a top up of 9" fish. But the club stopped doing that when fishermen were catching 10'" fish and 15" fish a month later. In other words the fish grew from 2" upwards much faster in the dam, than they did in the hatchery, and it made little sense to buy 9" fish, when you could rather buy them at 2" and grow them cheap the natural way.
I recently heard that Martin Davies, of Rhodes university confirmed this phenomenon, when they stocked different sized fish in this manner, but marked the one size with a notch in the adipose fin. Clever!  Then they could see which batch they were catching for the rest of their lives.
Of course after a year or so, the 2" fish are "wild" fish, and the stupid 9" fish are "Hatchery Harry", with some ragged fins, and a lot less going for them.
So how far can you take this? What about stocking as fry? Will you get even better growth, and bigger fish when they reach say 12 months of age. I think so, but I also know that your mortality with fry is awful. So maybe there is a trade-off.
But here is another aspect to consider. If you take a child in a refugee camp at age 15, and compare him to a 15 year old ball player at an ivy league school, one is going to be a hulk, and the other will be built like a racing snake. That stands to reason. Now take these same two individuals at age 40. Which one will have the greater "condition factor"?
Now apply the same logic to the 10" fish and the 15" fish caught in the dam , one month and 9 months after stocking respectively. Do you think the 10" fish will ever reach the size of the 15" fish? I think not. I think that 10" fish is in some small measure, a runt. A runt by design. His formative months were spent on a diet designed not for maximum growth, but maximum profit.
So when someone tells me they are stocking 3 pound fish into their dam to create a trophy water, I have to bite my lip, and pretend to be impressed. But I do accept that this thing is an inexact science at best. I for one do not have all the answers.