Once you own a collection of boxes, as one inevitably does after a few decades of fly-fishing, it becomes quite difficult to justify buying a new one. I drool over boxes in shops regularly. I turn them over in my hands. I stand there in the shop, thinking  that if I bought this one, I would use it for my Caddis & Midges, or my general purpose river nymphs, or some such thing. Then I put them back, and move on. Because you see, at home I have whole collection of perfectly good ones.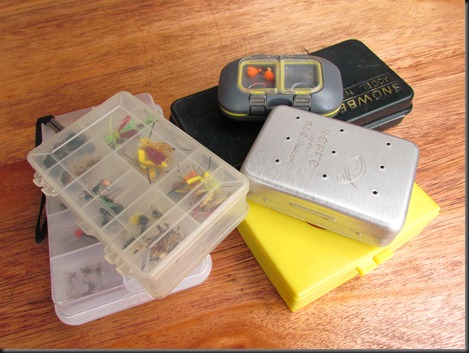 Some were sold as fly boxes, but a few were intended as something else, and others were picked up along the way. What I did do many years ago, was to buy myself a whole roll of fly foam. I don't know quite why I did that. There must have been a plan at the time. What that did however, was to enable me to turn any decent box into a fly box.
One of my favourite boxes was swiped from my kids, who collected these  with little model bicycle kits in them. They were a craze at the time, but I somehow only got away with one of them. It is home to some Dragons and Damsels now: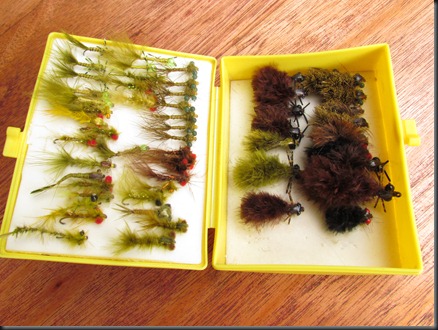 Another is a perfect dry fly box, but I found it in a bait shop of all places. It was dirt cheap, but it has more perfectly sized little compartments than any dry fly box I have ever seen.



Then there are some with some history, like this little midge box that I received as a prize at school: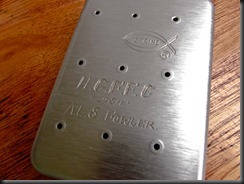 and this mini box, that I found floating in one of our dams: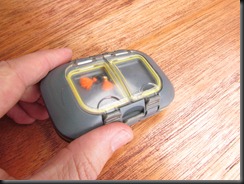 But inevitably, and no matter how many of the flies that you tie, you give away, you end up wanting some more space, and you start hunting for the perfect fly box. And when you take the plunge and buy one, there is nothing quite as satisfying as filling it with fresh flies, all in neat rows.