Back in 1996 I was cornered by a horde of tackle dealers, who politely informed me that the rod I was using at the time was………  Well it was……………..
I needed a new one.
And the ones they put in my hands that day beside a dam near Somerset East were sublime. So on my return home to KZN I visited one of them, and he very generously gave me three fly-rods to try.
I tested them on a prime still-water, and settled very quickly on this one:




The amount that went through my credit card on the Monday was terrifying, but in the end it was all worthwhile. The rod has been my still-water companion ever since. A 9 ft 5 weight Thomas and Thomas.
That was 17 years ago, but recently my new rod (yes, I still call it my "new rod"), started to show some signs of wear. The hook keeper met with an accident. Two eyes up near the top were wearing. The reel seat had swollen slightly so that I was struggling to get the reel on. I left it for a year to think about it. Then I contacted the manufacturer to see what they could do. They needed the registration card from way back when I bought it, and I would have to pay to get the rod to them and back again ( On the other side of the world : something like the cost of a share in an exclusive fishing syndicate).
In any event, that same week, PD returned a book of mine, and there between the pages was the  19 year old registration card, being used as a bookmark, and as incomplete as it was the day I took delivery!
So I contacted some local rod builders to get a quote on a rebuild. It would have been cheaper to rebuild the engine in my pickup. Maybe I should give it a bash? After all, I have built some rods before. (but those were cheap ones, and I have never done ferrules!
But so often, a decision delayed is a decision made, because just a short while later, the best rod repair man I know, came for a visit. And I took him fishing for a day.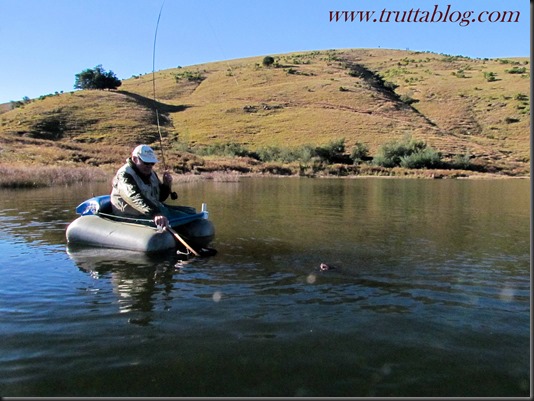 And while we were out there we got chatting about his 4 piece rod, that was once a two piece, but which he cut into a travel rod for the trip, and an idea began to form.
I received instructions on just where to cut the rod, and a few nights later, much to my daughter's horror, I made a quick measurement, followed by an adjustment of one inch as instructed. Well actually by one thumb length (…..not as instructed). Then I got out my hacksaw, and cut the lady. Twice.
I delivered it to Roger the day before he left. In pieces. He was a little hesitant when we pulled it out in the driveway.  "This doesn't look right" he said.  It seems I may have made the 1 inch adjustments in the wrong direction or something. I also received a call later in the morning to say that I had used a particularly rough hacksaw blade. There was some splintering, and a strip may have pulled away, weakening the blank. The wrappings may need to be very long to re-inforce it.
Roger Baert was always a master with a battered fly-rod. Even an abused fly-rod. One hacked to  bits by a hack!
My package arrived back from his home in France last week.


I was not disappointed:


I took the liberty of adding some line-up dots ( I am still getting used to lining up four pieces, my old fly rods are all two piece models)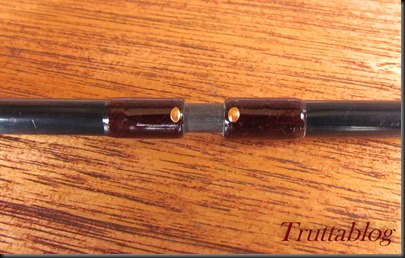 This week-end I used the rod for the first time. I think it feels marginally heavier, but I may be imagining that. What I can say is that it casts just the same. It landed a few strong rainbows. And it goes into in this nice short tube that fits on the front seat beside me in my pickup.


Here's to the next 17 years