With the water temperature in the lake varying from 21.3 degrees at 5 metres depth to 23 degrees at the surface, this was always going to be a tough day's fishing. The sun was out in the morning, and I sat out there on the tube, lathered up with suncream, thankful for the breeze, and not entirely confident.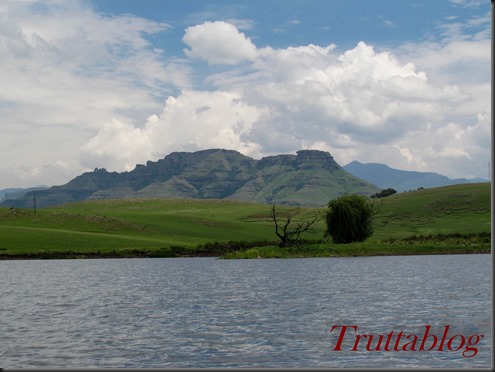 Things got interesting late in the morning, when I glanced across to where Rob was fishing on his kickboat half a kilometer away, and saw his two pontoons some distance from one another. I squinted out over the bright flat water, and could make out some splashing!  OK, time for a rescue, I thought. Clearly his craft has failed him, and he is a long way from shore on a large piece of open water.  I reeled in, and started paddling as fast as I could go. And that was not very fast. The distance took forever. At times I glanced across to Tim, who was on a kickboat on the Western shore. But Tim was too far off for me to shout for him, and I couldn't decide if he was closer or further than I was from the stricken craft. The thing about a float tube, is that one travels backwards, so I didn't have the luxury of keeping an eye on the scene.
At some point I turned around to check that I was still aimed at my target. To my utter alarm, I saw the pontoons even further apart, and no sign of Rob anywhere. At this stage, Tim had also noticed what had happened, and he later reported that he lost sight of Rob, and like me, feared the worst.
With our hearts pounding, Tim and I converged on the point where the pontoons drifted. Tim got there first, and at about that time I saw that a sodden Rob stood amongst the reeds on the shore. I reached the pontoons, and grabbed hold of them before stopping for a desperately needed rest.
Some conversation ensued, only parts of which I heard above the breeze. In summary all was well, Rob was going to walk back to base, and I should return to fishing.
I lashed the pontoons together with a lanyard that trailed from the one, and seeing that the strengthening wind would take them home, I released them.
This allowed me to concentrate on a few casts to where I had seen a fish rise. At that point I noticed that the water temperature was pleasantly cool. Cooler than the surrounding water that is. I quickly got out the GPS and made a waypoint. A rising fish, and cooler water. This spot was worth remembering. I called to Tim, and he came over to the same spot. He had a take. For the next 40 minutes or so, I plied the area, but it was to no avail.
I then began to make my way slowly back, shooting out long casts to either side as I did.
When I got in, the others were ashore already, and sandwiches were in the offing. Jem had landed two lovely fish, close to base, and without having had to exert himself like the three of us had done across damn near a kilometer of water!
After lunch and with a storm coming in from the North, I had a few furtive casts in the shallows, but a crack of nearby thunder saw me scurrying to join the others safely holed up in the vehicles. There we sat watching the white horses and rain pounding the lake surface.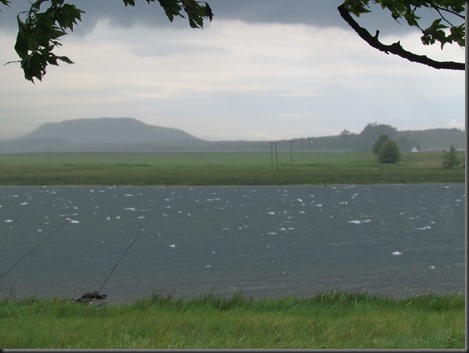 In the morning I had started out with an intermediate line, and had tried a red eyed damsel, an olive Mienkie, and a Marabou Muddler on point with a small weighted nymph on the dropper. The Muddler was on account of my knowledge that many Underberg waters are full of 'gilliminkies"  All of these were plied at varying depths, and speeds. These tactics had yielded nothing.
The storm petered out, but was replaced with a cool east wind that didn't look all that promising. Coupled with this was the fact that the eastern sky was laden with heavy cloud and mist, so it seemed inevitable that we would be rained out. Jem and Rob left. One of them had some good fish already, the other did not have a serviceable craft. Tim and I stayed on.
By the time we were back on our tubes the conditions had suddenly turned good. The wind had died, and the sun was just peeking through the cloud. After half an hour Tim hooked and landed a brown of around four pounds.
While he was landing it, the wind swung around and came in briskly from the South. And off to the South and angry sky was preparing to descend upon us.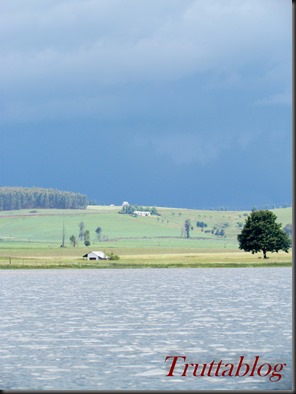 Clearly I was going to end up fishless. That would not have been unexpected. The water was too warm, and one cant expect much in these hot and variable conditions. Tim went ashore, but said to carry on a while. I changed my floating line back to the intermediate, but tied the Mienkie back on, figuring I could do worse in terms of fly choice. Then I paddled out further from the car just a little, and turned around to fish my way back for the last few casts. Cast number one yielded a strong fish. I brought it back until the leader join came through the tip eye, and then the fly came away from the fish. I swore and cast out again. Cast number two yielded a two pound Rainbow. Cast number three yielded a three pound rainbow. And with that the wind picked up a notch, and there was a roll of thunder. Tim was waiting. The day was done.