Ok "Bru", here's the deal. I really don't know why, but when it comes to the upper Umgeni River as a Trout stream, I am a bit obsessed.


I am obsessed with getting it back to, or maintaining it at, its former glory as a premium Trout stream. I have had this obsession since I was a varsity student. I conducted a sort of study of, and evaluation of the Umgeni as a prime fly fishing stream, when I was conscripted in the army. I visited farmers, asked them about their view of the river as a "trout asset", photographed it, and wrote some or other report under my blankets at night in an army bungalow in far off Potchefstroom.  In 1996, on a long car drive to a fly-fishing festival in Somerset East with Jack Blackman, Jim Read and others, I remember boring them all with my dream of the Umgeni as a well organised, conserved and revered fly fishers destination.
In years gone by I have put landowners and fishing clubs in touch, and put conservationists in touch with conservation minded farmers along the banks.
I am still not letting up.
Last year the Natal Fly Fishers club organised two work parties clearing wattle and bramble from river banks. Trout SA made a short video clip. Also, over the last year or two the World Wide Fund for nature (WWF) has been working in the catchment to reduce the number of water sapping wattles. It seemed to make sense to get alongside that initiative while there is groundswell. Then at the same time Penny Rees and her DUCT  team did "River Walks" blog about their walk from the source to the sea.
Penny has since walked most of the major tributaries of the Umgeni and journalled of her experiences on the blog. Like me, she is passionate about restoring this important river, her for her reasons, and I for mine.
This Saturday the NFFC is holding its third cleanup day. This time the club has thrown some serious resources at the task, hiring in a crew of professional tree-fellers, and with the landowner on board with tractors and staff. Here is a short clip on that:  Video.
I have used the opportunity to create a hashtag (do you launch one, or create it……I don't know. Maybe you hash it!)
#BRU
Blue Ribbon Umgeni


What is it all about?  It is about recognising and valuing the upper Umgeni River as a trout fishery. In this way we hold it up as something that has value. People look after the things that they value. So my "shout-out" is to fellow flyfishers here in the midlands of KZN to go and fish the Umgeni, catch its stippled beauties, photograph them, and tell people about it. Attend the NFFC work-party on Saturday 12th September, or the one on the 17th October, or next year's ones.
While the internet has rightly been accused of ruining good fishing spots, I am going out on a limb here and guessing that there are few enough river fishermen in South Africa, that those we do have, practice catch and release, and that sharing my favourite fishing spot with them will do a LOT more good than harm.
So #BRU is also an invitation:
Come and fish the Umgeni with me bru!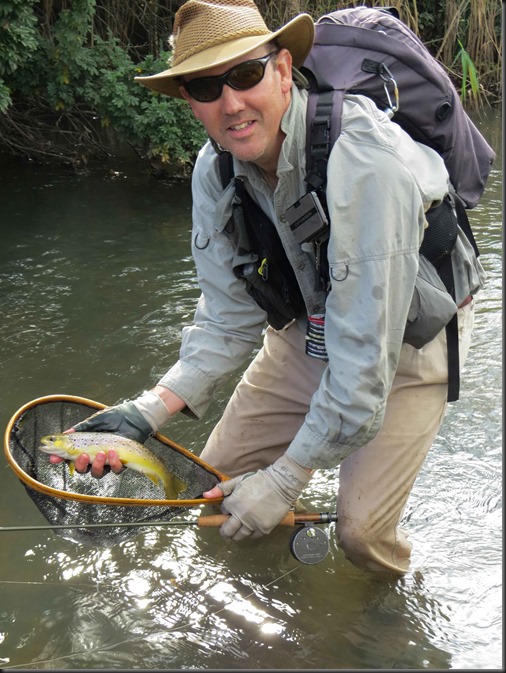 I am also going to ask you for some money soon. Money towards wattle removal. But you will get something in return. More on that in coming weeks.