Being one who mulls a lot (someone once labeled  me a DTN*), I have been dabbling with the concept of night fishing. Mental dabbling that is. And I am talking here of night fishing in rivers ….not stillwaters.
I have done a bit of night fishing on stillwaters.
A bit.
Not enough.
But I confess, I have never truly night fished a stream.
My angling background is thick with images of people holding up fish in an inky blackness, or stories of Browns coming out in the dark, and of talk of fishing at night when it cools off. I remember the cover of Joe Humphries "Trout Tactics" with just such an image. 
Then just this week, I saw these images of my friend Brett Coombes in Australia:
Somehow though, my buddies and I just haven't joined the dots.  I don't know why. Maybe us South Africans associate night time with murder and evil. That would be silly…all that stuff happens here in broad daylight!  Maybe we are just scared of the dark. Or maybe it is because we lack great big rivers with even gravel streambeds, which one can shuffle into without the benefit of sight. Our streams are small and tumbling, and back-casts could be difficult if performed by sound alone, not to mention finding footholds, or even getting down into the canyon in one piece.
For now, I am writing those off as weak excuses though. It's time we did this thing. American media has been extolling the virtues of big streamers for monster browns at night for a long time, and somehow we have been ignoring it. We have long been reading about how big browns travel long distances at night on the hunt for food. We even have fly-tyers tying up big mouse imitations. I don't know about you but stereotype images of a big mouse making a wake and being swallowed in the blackness of night, come quickly to mind. And maybe this thing is not as stereotyped as muslims with wires sticking out of their clothing and cheese in mousetraps, but for now I am  going to treat it as the gospel truth until I have proved otherwise. Hell, I am a man of faith!
I put cheese in a mousetrap myself the other day. Graeme said I had been watching too many Tom & Jerry movies. Well this time I have been reading too many romatisized "Big Browns at night" stories, and I am going to put some cheese on that metaphoric mousetrap and go try the Mooi at the bewitching hour. PD says he just needs to check that his medical aid and his life insurance are up to date, and he is IN!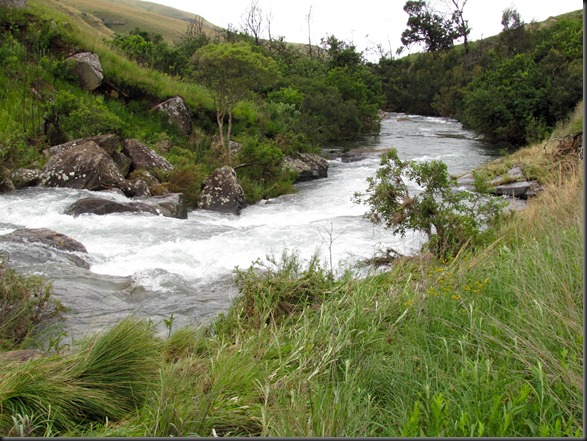 The upper Mooi….a perfect spot for a stroll on a moonless night, wouldn't you say?
* DTN apparently stands for "Deep Thinking Nigger". Some of my friends actually call me that. Like my comment on Muslims and wires, this is used parochially and descriptively here with no racial or religious bias whatsoever.  I might however, not make such innocent utterances when I am fumbling about stubbing my toes and getting washed downstream on a piece of water like that above, on a moonless night.