I recently became the custodian of some classic fly fishing tackle.  That is to say, it was not given to me, but circumstances dictate that I must look after this stuff for a while, (and I am not saying any more than that!)
Petro and I opened the heavy and elegant, but battered box on the lounge floor the other night over a good bottle of red.
The box was engraved, and inside, apart from the Palakona  cane rod, Hardy's leaders in muslin inserts, reels, tiny trout flies, and the like, were two fishing permits.
So from this, and the tarnished plaque on the front,  we know that the box belonged to one Henry Antrobus Cartwright, a military man during the second world war, and stationed in Berne, Switzerland when things were pretty damned hot.
Cartwright was a distinguished military man, famous for his five attempted escapes from German POW camps in the first world war, and for his book "Within Four Walls".   *  Cartwright illustrated that book with humorous sketches, so he was clearly a multi talented man. In the second world war, he was a captain in the British army, a Colonel by 1945, and a brigadier before the war ended.  Following some research I now know that he received the   Companion of the Order of St Michael and St George (CMG) on the 14th June 1945, and that on the 18th of June he went fly-fishing.
The story goes something like this:
Cartwright had links to SIS and MI5, and his job was debriefing returning prisoners of war, escapees, and other military personnel getting out of the spotlight, and passing from Germany, back through Berne in Switzerland, (where he was stationed).
My Google search turned up these snippets:
"Switzerland, along with SIS stations in fellow neutral countries such as Portugal and Sweden were to become the major collection points for Allied intelligence about the Axis war plans in Europe." 

"Count Frederick "Fanny" van den Heuvel, the epitome of a perfect old time diplomat, tall, courteous, an excellent linguist, had been educated in Berne and could speak fluent Swiss-German. He had also gone to school in England and had once been a director of "Enos" Fruit Salts. He had worked for the SIS during WWI but had been compromised. He was appointed Station Chief SIS Geneva, while Victor Farrell was appointed a "Press Attache" at the British Embassy in Berne, where he joined the Air Attache, Air Commodore Freddie West, MC, VC and the Military Attache, Colonel H.A. Cartwright both of who had previous links with SIS.

The various Naval, Military and Air Attaches were the main intelligence gatherers for MI5."
So it seems that Cartwright was a man who got to learn some war secrets, and as a result he was a marked man by the Germans, who were trying to get eyes on him.  He must have been a nervous man, because back in August of 1943, he  erroneously dismissed a man named Kocherthaler, a middle man, to a noble German "traitor" named Fritz Kolbe, and in so doing missed an opportunity to set up an intelligence chain that may have ended the war that little bit earlier.
Read the story of Kolbe, Kocherthaler and Cartwright   HERE.
But despite all that , we see that he was promoted quickly through the ranks towards the end of the war, so he must have been a high powered fellow, with some successes about which we may never know, and a man with a whole lot more stress than someone sitting in an office nowadays.
And from my research I discovered that The King's Birthday Honours 1945, celebrating the official birthday of King George VI, were announced on 14 June 1945 for the United Kingdom and British Empire in which Cartwright received his "CMG".
Now look at the date his fishing permit was issued: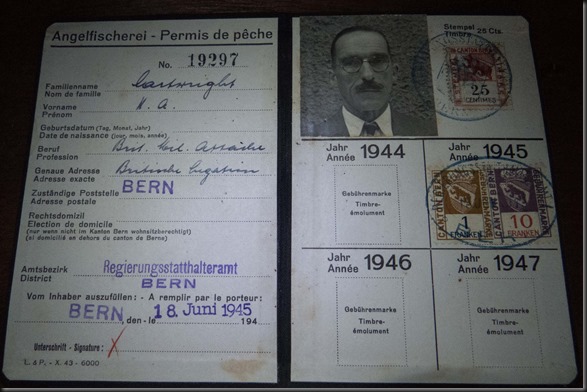 So, in a nutshell, he escaped,  he snuck around gathering secrets, served his country well, got promoted right to the top, made the king's birthday list, and then he went fly-fishing to celebrate.
What a man !
So how did I end up with his tackle?
Well, I could tell you, but then I would have to kill you.