In April this year, a man by the name of Kenneth Einars posted these pictures on Facebook:
Interesting aren't they!  And beautifully tied too.
These immediately sparked my interest, because I had recently read Peter Hayes' excellent book "Fly Fishing outside the box", where, in chapter 3 he makes a rock solid argument for having your adult dun imitation  facing upstream if there happens to be a downstream wind. Hayes is a deep thinker, and a great writer, and throws old ideas wide open for re-consideration. That's what he has done with the idea of having your adult mayfly imitation tied on the hook in such a way that you "pull it" from its nose.
Hayes makes a great case for the reverse fly, at least 50% of the time (when the wind is bowing downstream).
But like so much common sense, it is far from common, and a search on the internet for reverse flies turned up lots of women in their gym clothes doing a particular exercise, and very few pictures of flies.
What I did find was reference to a man named Roy Christie, and I then found reference to him in Hayes book too.
Roy Christie is a reverse fly aficionado. In fact he is credited with inventing the reverse parachute fly. See his video on how to tie the Reversed Parachute HERE  or see his blog (albeit dormant now) HERE
Interestingly, Christie makes a case for the reverse fly partly because it places your tippet, on his emerger (not an adult) pattern BELOW the surface.  Hayes makes a solid case for floating your tippet elsewhere in his book. Yes, I Know, it is controversial, and many of us want the tippet sunk, but that is not the topic here.
Hayes' book refers to the reverse fly in the context of the dun, but Christie is tying it as an emerger.  This got me thinking about the angle of the tail on a reverse fly, and the angle you might want the fly to float at if you wanted a dry fly, rather than an emerger.  In other words, do you want its butt under the surface, or do you want it up on top, with the tail fibres supporting the flotation?
Which gets me thinking about Kenneth's flies…the ones I started this piece with. Kenneth Einars confirmed that he intended them to be duns, but he hasn't tried them yet.
They are superbly tied, but they are "no-hackle" flies, and may need some more flotation, and Christies are emergers, and if they were to be converted to duns somehow, they may need a different angle to get the fly up  on the surface of the water.
The reverse flies I did find on the net all seemed to have their butts in the soup. That is not a bad thing, but I saw a fly tying challenge emerging (excuse the awful pun).
So, first I tied these reverse flies the easy way:
Only afterwards I found that the fly above has already been invented, by none other than Christie, and is called the "Avon Special", with the hook flipped around as I had done.  I recommend you click on that link above to read all about Roy Christie and the invention of his excellent fly, which is pictured below: 
The only thing is, the tails may or may not sit on top. The fly is pictured here at the right angle, but look at the angle of the hackle.  To test, I filled a glass of water and tossed my version of the Avon Spinner in there. It floated like a cork, but sure enough, the tails were below the surface.  (I can't help wondering: a greased leader (as promoted by Hayes) might help keep the bum up. I wonder if an ungreased one , tied to a #18 as pictured here, will sink below the surface on the strength of just the eye of the hook being under the meniscus……)
I really like this fly as an emerger, and have tied up a bunch, but I have not lost the quest for the high floating dun: the one that floats like a sailboat, and facing upstream when thrown upstream. I did however like the fact that the hook point was hidden up there in the hackle.To get them up there on top though, with tails on the meniscus,  I needed a better angle.
So I tied these: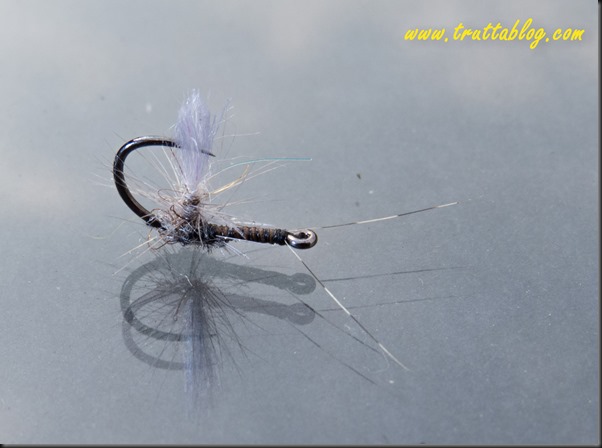 I have just tossed these in a glass of water.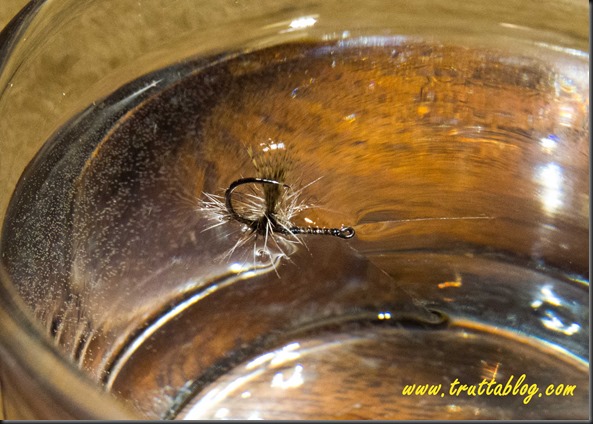 Voila!
But as Roy asked me over a bowl of stir fry last night: "Aren't we over analysing things?"
Hell yes Roy, but it is fun isn't it!