It was a very disappointed thief who broke down my patio door in the middle of the night with an axe, in search of a flat screen TV.
All he got was an angry Great Dane and a sea of books. I only wish we had managed to give him some fast flying lead too….the bastard!
But let me put the angry thoughts of retribution aside for a moment and focus on his disappointment, and my delight: Books.
I hadn't realised it, but books, and more specifically flyfishing books, have been in my blood for a long time.  I remembered this favourite from my school days:


And I remembered my delight at being mentioned  in one of Tom Sutcliffe's newspaper articles, when I was just a schoolboy, that later became part of his first book: "My way with a Trout".
I remember taking fly-fishing books out of the school library …the same titles, repeatedly:  "Where the bright waters meet", by Harry Plunkett-Green, and titles by Skues and Sawyer.
Then the other day Tom  sent me this snippet of his "borrowed books" notebook:

And looking at my own collection  now, I realise that it has swelled somewhat over the years.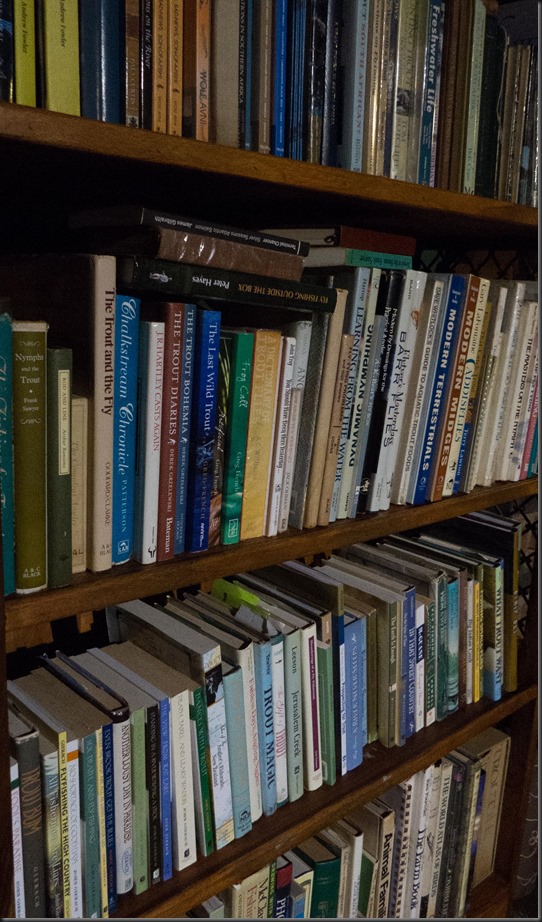 And I think how I relish the titles by Middleton and Duncan, and Grzelewski and Rosenbauer and Engle, and Gierach, and French, and Traver, and Leeson, and where do I stop……. I have read them all, many several times.
"Where do you get the time!" proclaimed a friend the other day. He wasn't expecting an answer, but I gave him one anyway: "I don't own a TV" I said. And I realise now that while the man in the dark of night who threatened to shoot our dog spoke impeccable English, it can't have been Graeme, because he knows I don't own a flatscreen.  (One step closer to catching the thief, you might say.)
My wife and I were out to breakfast one day, and I had parked the car out front of the restaurant. I was about to lock the car when Petro pointed out that I had left something of value in full view. I re-opened the door and hid whatever it was under the floor mat. Then she opened her door and together we hid a few more items….you know, used handkerchiefs, toothpicks, that sort of thing. The sort of thing that people break car windows for. Then our eyes moved simultaneously to the back seat where I had a stack of secondhand fly-fishing books that I had just collected from the post office. We looked at them and then at one another and fell into laughter.
Later over coffee we discussed which country we might emigrate to, if ever we did that, and we decided that we would choose a country where one's fly-fishing books were at risk of being stolen.