I don't do tackle reviews. I am just not a hugely technical tackle junkie. Stuff feels right or it doesn't. This level of analytical skill is of no use when spewing out advice on a rod or line.
But I reckon I could pull it off with a fly vest or pack, because whether it feels right is everything.  So here goes:
To me a fly-fishing combo vest/pack is a critical piece of kit. For the type of fishing I do, and perhaps just because I am stuck in my ways, I am not considering a sling pack, or chest pack. A full pack/vest combo is what I need and want, and it is one thing I am prepared to spend some money on, but it must last me a long time. I don't want to spend this money more often than I have to. I need a pack to be able to carry food, rain gear, a warm layer etc.  I used to fish with a pack that was, as far as I can tell, a stitch-for-stitch copy of the patagonia sweet pack vest.
I liked it.
A lot.
Unfortunately it only lasted 20 years, and the manufacturer's  business didn't last that long. It was however such a close copy of the Patagonia , and it so happens that a buddy of mine recently bought the upgraded version of the Patagonia, that I think I can can compare my new Umpqua to the Patagonia sweet pack. (a good review of that one HERE )
I have only owned the Umpqua Swiftwater  for 5 months, and done just 112 hours with it on my back, so I comment here with caution.  I believe you have to really know a product and have used it extensively before you can truly add value in a review of it, and I am not entirely sure that my level of usage is there yet.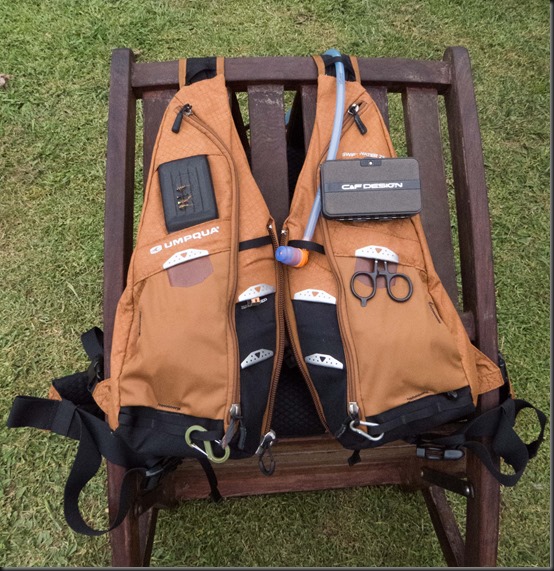 That said, I can comment on various features of the Umpqua, and their usefulness for me personally.
You can watch youtube videos about this pack vest that are very valuable HERE and  another review HERE.  They also have one that explains the whole zerosweep concept, so I won't repeat that. Instead I will add or build on features that have already been shown in these very helpful videos:
Firstly:  the pack that was sent to me by courier here in South Africa had a manufacturing fault. When I reported that and returned it, Frontier Flyfishing in JHB, who had supplied it, were really great about it. No questions asked, they sent me a new one, and threw in a spool of rather expensive Flouro tippet for good measure. Thank you guys.
The pack is very comfortable to wear, but here are some thoughts:
The waist band is wider, more padded, and stronger than it needs to be for the size of the pack.


The pack volume is rather small for a guy like me who likes to go off for eight hours up a river valley, and take some rain  gear and warm clothing as well as a hiking stove and coffee pot.  The waistband could support this, but there simply isn't enough space. Patagonia on the other hand have got it the wrong way around:  a decent size pack and a feeble string of a waistband.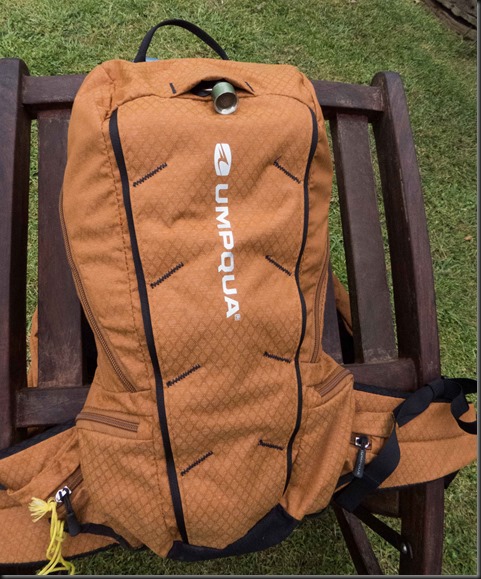 What I have done a few times is to take along one of those dry bags, and hang it from the outside of the  pack.  There are multiple attachment straps that make this easy, but it does mean you have something swinging around on the back.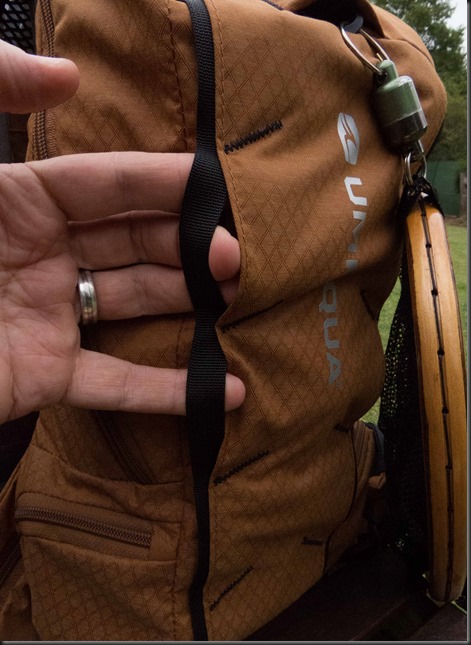 The set up does however come with a bigger pack , and I have one on order.  Judging by the pictures and details from Umpqua, I have a sneaky suspicion it will be too big. Fussy, aren't I !
Umpqua do say that you can reach around the side to access the lower pouches without taking the pack off. True, but it takes some practice and as I get older I am less able to contort to reach like this.


The adjustability of the pack, in terms of shoulder strap position, tensioning of the straps that run down to the waist band and around the back, is fantastic. You can make it fit any shape imaginable, and in fact there are so many settings that I am still experimenting with what feels right.  For one thing the left shoulder strap keeps slipping off my shoulder ……like the strap on the sundress of the girl at the party who is trying to look stern, but still somehow comes across as provocative…… I am sure I can fix that somehow.  I think it is because the waist band takes ALL the weight, and there is nothing left for the shoulder straps to do, if you know what I mean.  I do know that I don't come back from a long day with sore shoulders like I did with the other pack, but then I haven't been able to carry enough weight to make that a fair comparison.
The back hook for hanging your net works out a little too low for me, despite the fact that I carry a very small (read short) stream net. I found that after you put a ring plus a magnet plus the loop on the frame of the net, it just hangs too low.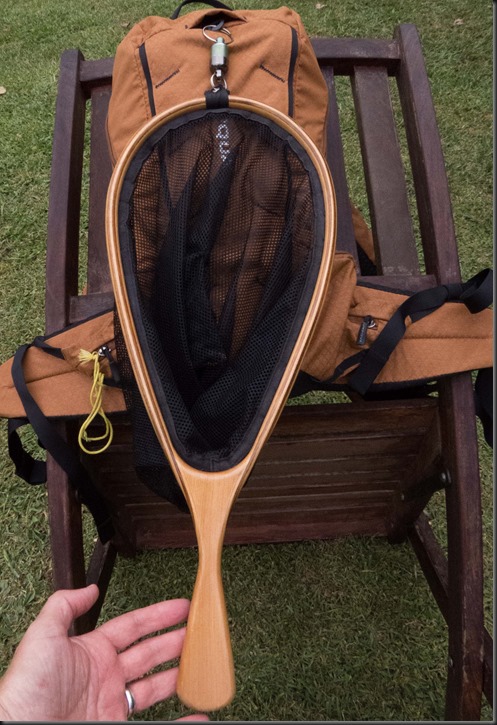 So of late I have been hanging the net off the shoulder strap to lift it higher.
The back pack takes a hydration bladder. I never thought I would use one of these, but my son and his wife gave me one for Christmas a while back, and let me tell you that in our hot South African conditions, having a pack that takes one of these is now on my list of 'must haves'.
Now to the front of the vest:
The pocket configuration is great. Inside you have mesh pockets that close tightly, and are very secure for car keys and the like. Maybe I have the pack a bit tight, but I find them a LITTLE difficult to access, so I put the seldom used items in there.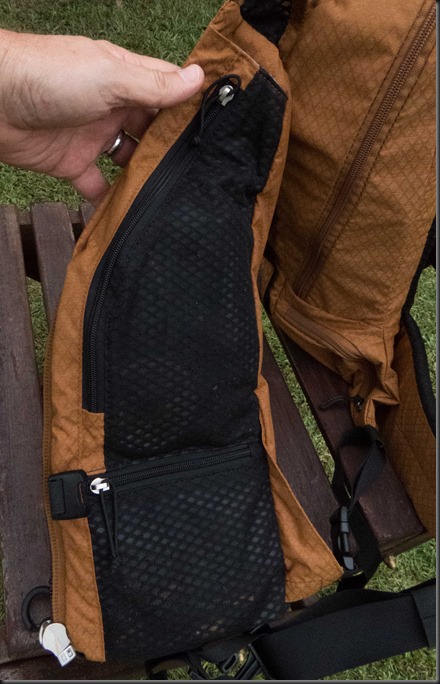 Then on the front, it has the two big long pockets either side, that you can open from top or bottom, and that have a sort of hanging basket in the top half. This is clever, and works very well indeed. I have deep soft weight, floatant, strike indicator yarn and tool all in these top sections.  Fly boxes go in the bottom sections.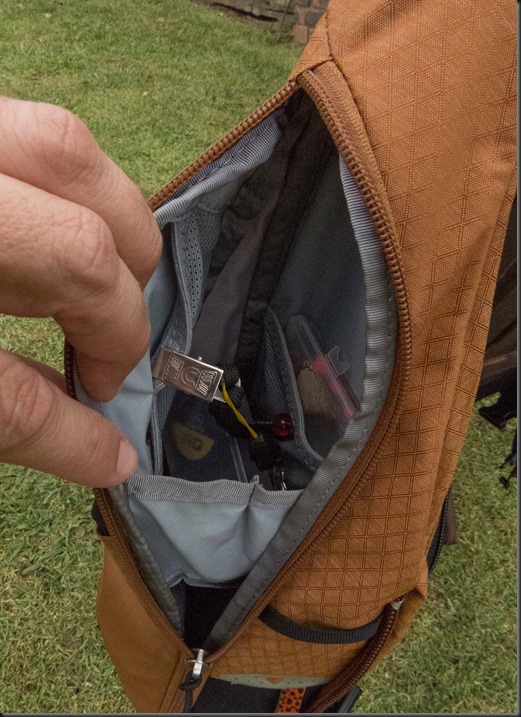 At the base of the front are two tippet spool elastics. These puzzle me. They have gone to great lengths to ensure that when empty, they tuck away out of sight.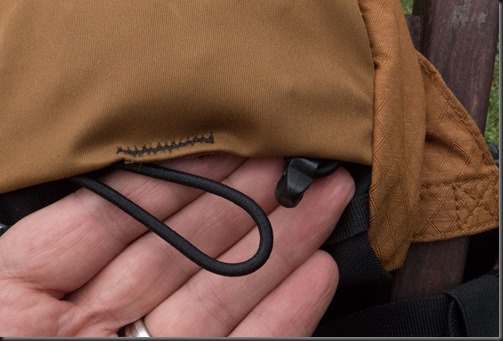 That is a good thing, because I don't use them. I don't want my flashy spools of nylon on the outside of my vest in the hot sun. Instead I use a lanyard looped with a carabiner onto a  convenient loop in the same area, and tuck the spool holder into the pockets with the fly boxes. Flouro one side, nylon the other, and with the lanyard running through the zip.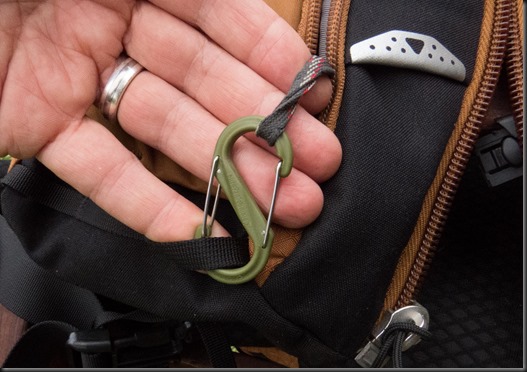 When tying tippet, I can drop the set of spools, and they dangle safely until I get time to put them in the pocket again.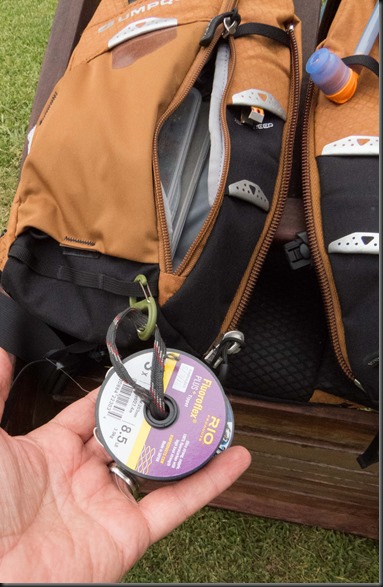 On the outside of the front are a few clever features:  Two soft fabric pockets. These are made of a sort of clingy material, so I keep my sun gloves on one side, and a camera/sunglasses cleaning cloth on the other. They kind of  cling in there, and even though the pocket opening is low and wide, they NEVER fall out.


I can also temporarily tuck my polarising filter in there if I take it off the front of my camera.
Then there are the ports for nippers on retractable devices….they slide away out of the way. Fantastic! (But it did  take a bit of fiddling to find the right zinger, with short enough loops and connectors to make the distance from the zinger to the nipper short enough).


There are 4 ports like this. I only use one.  I cant think what I would need to put in the others.
Then there are the clever ports for your forceps.  This is really smart. I had to buy new ones, as my old ones were way too short, but with the new ones they just peek out perfectly.


Fly patches.  The vest comes with one. It is made of  dense rubber type material that holds a barbless hook exceptionally well. Don't put a barbed hook in there, whatever you do, it rips it up badly, but a barbless one, it holds onto beautifully…I haven't lost a fly.


The store persuaded me to buy another Umpqua product that would house my barbed hooks. A flat panel with slots and a magnetic surface.  The product integrates with the pack in that the tab ends of it tuck way, but I don't recommend it. The slots in the material are longer than its density can support and your flies fall out of the slots. The magnet is also weaker than others I have, and I have lost flies from there too. Furthermore the magnetic piece is bright white. I tried colouring it with a permanent marker, but it seems I can't keep within the lines, and it didn't darken it enough.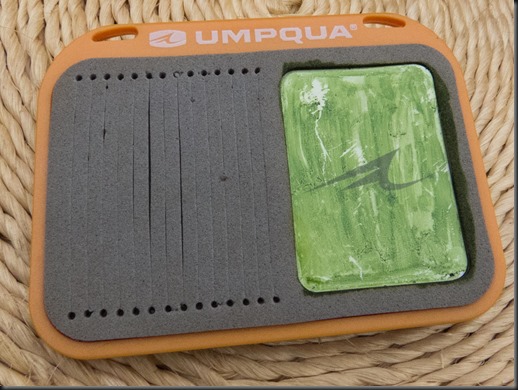 I have resorted to my C & F patch, which works much better, although it does sort of detract from the whole 'zero sweep' aspect of the set up.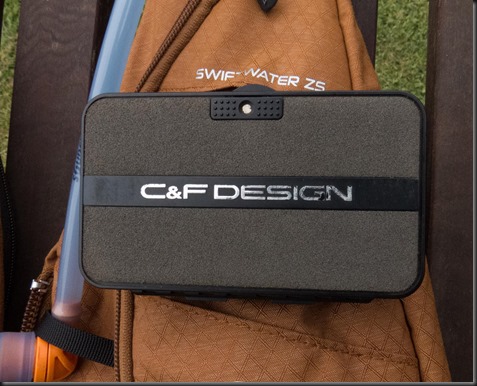 And speaking of the zero sweep.  While it is talked about in the videos, it might not be clear what they mean about the special zippers. A normal zip has a little slot in it. Most flyfishers will have had their tippet pass through this slot at some time, and will know what a frustration it is.  Here is where Umpqua have done something tiny that is so significant and important. The little "bridge" on the zipper train has no open slot!


This is very worthwhile.
PD and I were fishing the other day, and he had on his Patagonia sweetpack. I eyed it again, especially when I had to ask him to carry my sandwiches.  He is able to fit more fly boxes than me, but that doesn't bother me much as I have taken to travelling lighter these days. But  I did notice that when we crossed the river in a spot that was too deep, and both our packs were immersed, his stuff stayed dry…mine was sopping.
But then I have always carried my car keys in a waterproof container that I also secure with a lanyard, because you really can't afford to lose car keys or get them wet, now that these things are electronic..


I really like the Patagonia, and it was a tough choice, but I have  to say that I don't have buyer's remorse.  The Umpqua Swiftwater ZS is a great piece of kit. It is expensive for us here in SA with our weak Rand, make no mistake, but looking at the quality of the thing, I am quietly confident I will get it to 30 years.
A quick calculation tells me that this means it will be the last vest/pack that I ever buy.