Tiny wavelets in the sun. Wind pushing water. Ever rolling ripples. Running , extending out over the surface, on and on. Never ending, and each the same. Sunlight twinkles at the crest of those crossing a sunny line out beyond the cattails. Cattails extending to meet the wavelets, and brushing against the fabric of my waders. The water around me ice cold and gin clear, and lapping as a sideshow to the wavelets. My eyes divert from my side, back out over the water. Again. I search for the dry fly. Where was that spot. It's all the same out there. Wavelets, running on and on, but suddenly there it is, in that spot that looks more fishy than all the other wavelets. Without reason. I've lost it. No. There it is. I must recognise that spot when I look back. My eyes water a little in the cold. Perhaps it is the harshness of the pale winter sun in a blue sky but I need to blink. I daren't. I wink one eye and then the other, and my vision blurs a little. Blurred images of ever running wavelets, a little out of focus, but all the same. Where is that spot?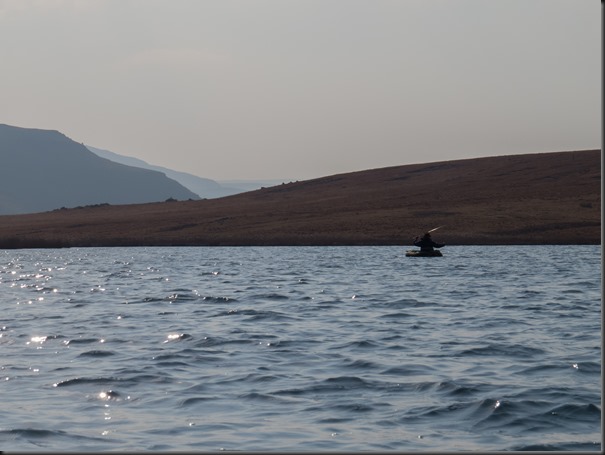 Oh…there it is…I can see the fly. I follow the line the next time, I can see a knot of the leader floating, then it is just wavelets. But if I allow for the arc of the line on the surface I can guess the area. Ah, there it is again. My fly.
A deep breath takes in the clear winter air. On my nostrils is the childhood scent of frosted grass, slightly damp from ice that melted on it, and hasn't quite dried yet. I sigh in outward breath, and search for my fly among those wavelets. Ah! There it is. riding between the ever running ripples on the vast surface of this lake. This lake with its cover of pale blue sky, its cold wind and its endless sun drenched wavelets. A small fish rises. Is it me! I strain my eyes. Ah, there it is….No. Not this time.
Who says stillwater flyfishing is monotonous?
It's addictive! 
I'm gonna go again next Saturday too.