When I was a youngster, my Dad took me out to a wattle grove that grew out along a ridge in front of the old house, and taught me to shoot with a .22 rifle.  He coached me slowly, and with great patience, teaching me about stance, and nestling of the rifle butt into my shoulder. He cautioned me about the position of my cheek, too close to the rifle.  Then he folded his hankie, and put it up on a tree nearby as a target.  I hit it on the first shot. Praising me, he proceeded to fold the hankie several times to make it smaller, and when I shot that too, he teasingly blamed me for shooting a perfectly good hankie full of holes. That was quiet praise, designed to affirm, but without making my head swell!
Several years later, with equal patience, the wattle grove was gone. My Dad had started working on the wattle on our farm when his father bought the place in 1948, when Dad says two thirds of it was covered in wattle. He worked at it all his farming life, right up until the time he retired. He removed invasive wattle, restored pasture and planted lines of ornamental trees.
My father's farm….as painted by ………..my father.
Eventually  the labourers pleaded with him to leave a small grove of wattles for firewood.
I hope that, aside from our penchant for ridding the veld of wattle trees, I share some of my Dad's patience.  I sometimes think that I might have inherited a little more of the wattle allergy than the patience though.  Just this last week-end, I rushed a tippet knot, and lacking the discipline to cut it, and re-tie it, I left a black DDD in a fish.  Anton makes you drink for things like that.  Dad would not approve.
I also spent a day on a river that hasn't produced a Brown Trout in a long time, and failed to raise one again. I need to muster the resolve to return, and accept that a single outing is not an adequate sample upon which to make proclamations of doom.
And a few days ago I was cornered by a portly gentleman, who drives a big car, and has a pallid complexion, and fingers like cocktail sausages. He wanted me to take him fishing up a river valley and teach him how to catch trout. He's a super chap, but I can picture him decked out in his waders, holding a brand new, expensive fly rod, and  a cheesy grin, so I smiled wanly and changed the subject.
I really need to work on my patience (or is it my swollen head?)
About eight months ago, I borrowed my son's battery-powered hand drill to perform an experiment.  There is a hillside above a diminutive trout stream I know that is covered in wattle, and I had been pondering ways of getting it sorted out at the lowest possible cost.
Wattles on the hillside above the Furth Stream
My plan  involved securing the company and help of my wife, and taking the drill plus a small vial of herbicide to a couple of wattles growing in the road reserve near our home. It was an experiment on a small scale, with bigger things in mind.  She agreed, and one day after work, we took a stroll up there.  I drilled 4 holes in the first tree, three in the second, and so on.  Then we injected the herbicide into the downward sloping holes with a little plastic syringe, wiped our hands with an old hole ridden hankie of mine, and left.
My wife was concerned that the trees would die, and fall on a passing motorist.  I tried to allay her fears, saying that it probably would not work anyway, and that if the trees did die, there would be time for the municipality to see the danger, and act with the speed and professionalism that all  South African municipalities are so famous for.  She seemed unconvinced.
I think tomorrow I am going to look in my diary for a free Saturday, and give that pleasant, rotund fellow a ring. I can picture those fingers of his tying knots slowly and thoroughly, and better than I do……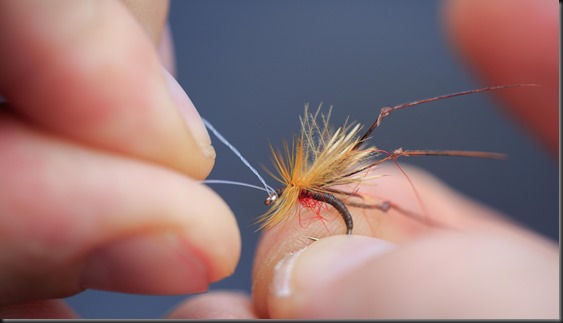 My fingers:  (photo credit….Chris Galliers)
Oh, by the way…..If you are heading down Cedara Road in Hilton  anytime soon, look out for a dying wattle tree leaning over the road……and a fellow walking around with a cheesy grin on his face.  You may want to report one of them to the municipality.