The other day I had the privilege of being on the river for work reasons (again). I know that it is not an infrequent occurrence, but I still consider it a privilege. Anyway, I took a break while the crew were having a lunch break, and I went for stroll. The light was brilliant, and the water was as clean as it gets. I didn't have a pair of polarised specs, but the angle of the midday sunshine, and the east flowing stretch of river just aligned in a way that it made no difference…I could see everything! Flow was pretty decent, since we had rain all the way into early May this year. So in summary it was perfect.
At Picnic pool, I spotted a small fish come up to take something near the head, where the water rushes in. It was a small dark shape, that snatched and ran. Above that pool is a big shallow bedrock tail-out, but the run gets deep on the south side, and runs with just a bit of a ripple under overhanging grass. I saw nothing there. Surprisingly.
Above that is a piece of water that holds deep memories for me. The river runs over shallow rock, but it divides, such that there are 4 river banks in all, and they are covered in clumps of huge cascading grass tufts. Despite the shallowness of the water, and the bedrock, I have often seen, caught, and spooked fish here.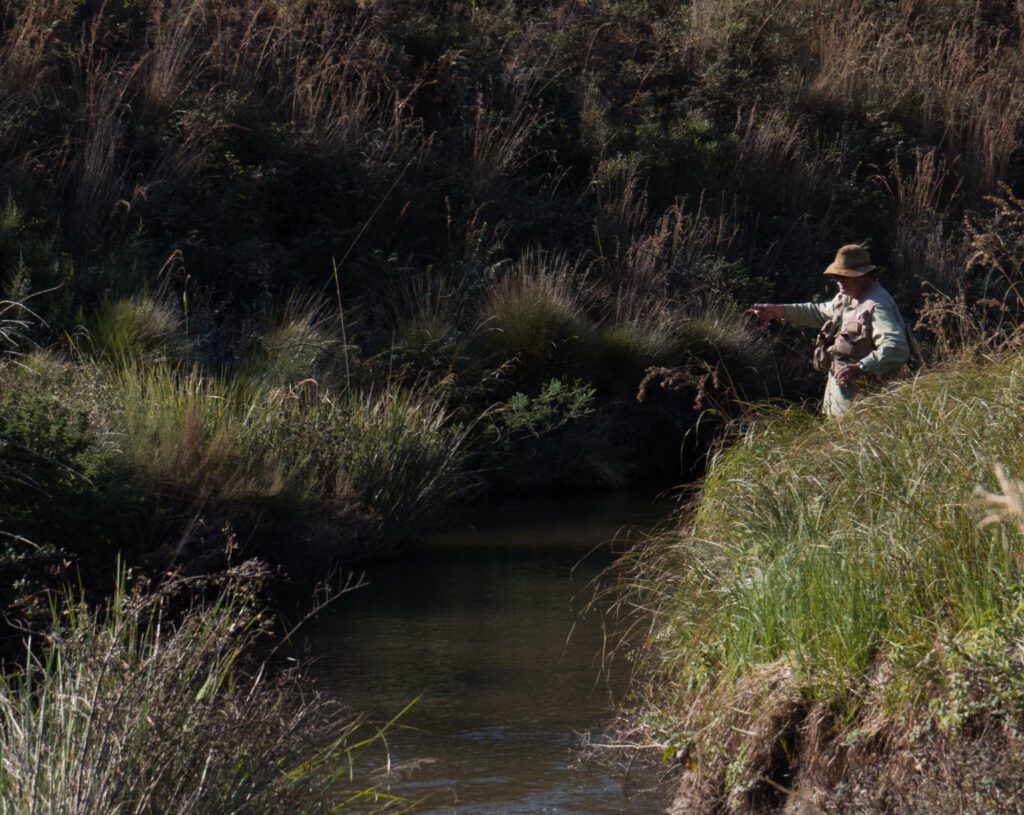 It started way back on the 18th of April 1999…… I was fishing with a pal (since departed), and we came upon fish here. I didn't know this part of the river well back then, and after we had caught, seen and spooked several fish here, I asked "Are we at the top boundary yet", as I peered into a tunnel of offending wattle trees upstream of us.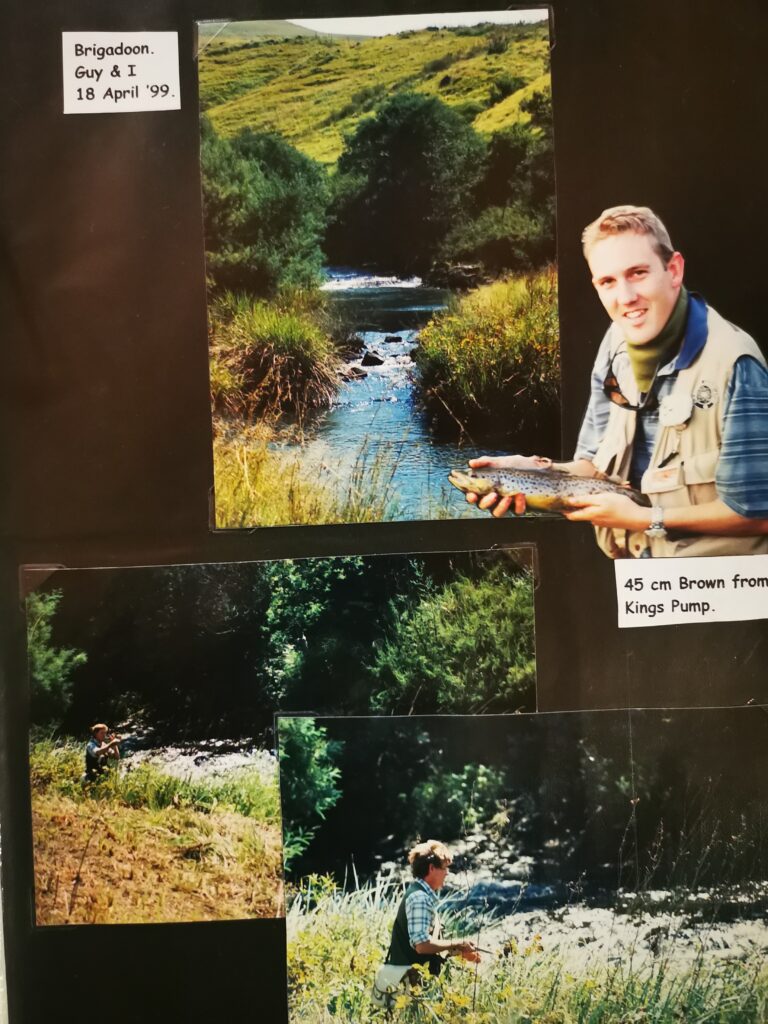 My colleague replied that we were very close to the end of the beat, and so we gave up for the day and headed out. I now know that he was not entirely right. There was about half a kilometre to go.
Anyway, I spotted a fish here again. I spooked it in fact, and saw it shoot away in panic.
Just above the next rapid, I was passing between two big clumps of the same riverside grass, when I saw a flash of movement in my peripheral vision. (Did you know that your peripheral vision is more alert to movement than your direct gaze?) I stopped to process the image my brain had received. I am often fooled by a shadow of a bird flying overhead, and I need to stop and analyse as I now did. Was it a little too quick to have been a fish? Was it moving in too straight a line? Was its path of movement strangely inconsistent with the features and obstructions of the river bed? I stared at the water as I thought these thoughts. I decided it was just a bird. But as I was about to avert my deep-thought (and doubtless unblinking) gaze, I noticed something.
It was a Trout's eye.
Strange to find a Trout's eye right in front of you, on a bare rock riverbed, barely a rod's length away….
I blinked and "zoomed out" in my minds eye, and blow me down, it turns out that what I had seen was attached to a motionless fish!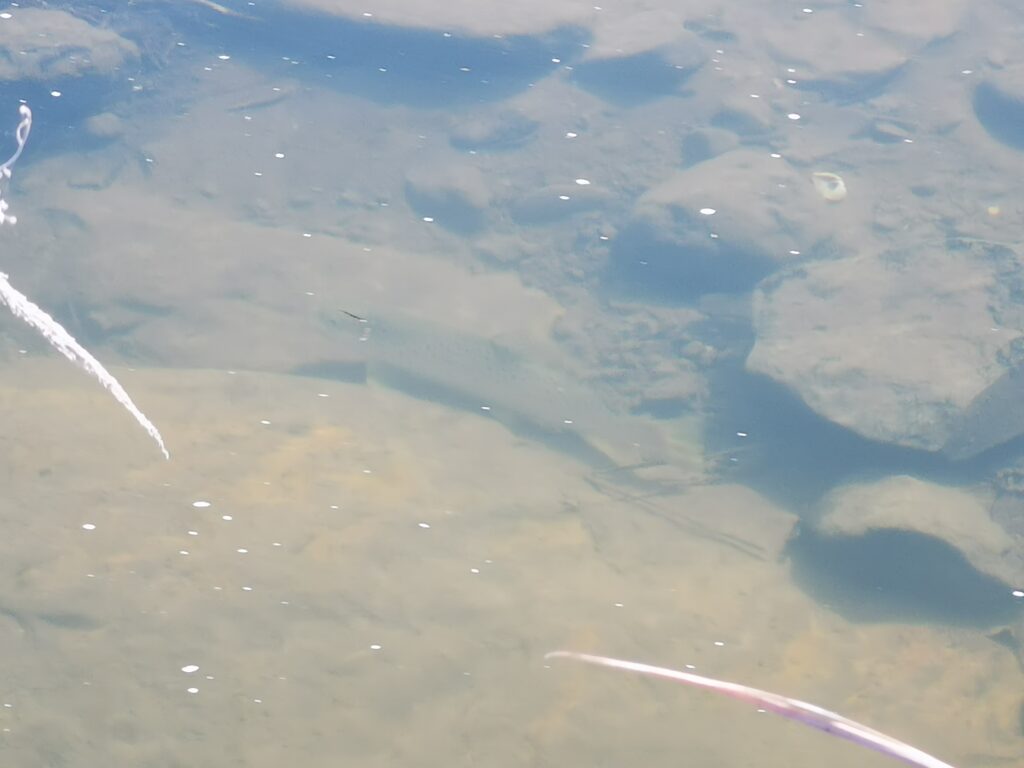 It didn't move a fin, so I guess my peripheral vision wouldn't have picked it up. It was my blank stare that did it for me.
I had a camera with me, but the battery had gone flat, so I very carefully pulled my phone from my top pocket and switched on the video camera.
What a treasure to see, watch, video, and appreciate a decent sized brown on this water.
It is at times like this that I don't really need a rod at all. Sometimes I can just walk; just look.