September is a varied time. It is the month in which we are most likely to get snow, and at the same time, daytime temperatures of 30 degrees are far from uncommon.
Here where I live, when a September cold front comes in, we get eleven degrees and drizzle, and at that temperature there won't be snow, not even on the high berg. If it drops to seven degrees then we expect some white stuff up on top. In the event that it hits five degrees, snow on the Inhlosane, the little berg, and hey, maybe even Karkloof is a possibility. Either way, that cold front is a valued thing, all the more if it drops some reel rain and lifts us up out of our dry winter.
In between, its typically what I call a "flat white".  Bright hot sunshine. No wind. White, flat light that is a photographer's nemesis.  Not fishing weather at all, it seems.
The truth be told, it can actually be quite good in these conditions if you go higher in the mountains, where it is cooler, and all the more so if we have had rain, like this year. My pal Ray fished a mountain stream the other day and commented that it was hot. But as he said the fish were "on the prod", and he got enough of them to make the drive seem well worth the trouble. But I sit here on a bright Saturday morning, feeling a little disinclined to tramp up a river valley smothered in sunscreen and looking out for snakes. Instead I am tying flies, with a bottle of chilled lemon and mint water at my elbow. I have half an eye on the weather app. It predicts one of those eleven degree things later in the week, complete with drizzle. Heck….who knows, it might even rain! Now THAT has my attention. I saw the Viking yesterday and he had spotted it too. I said something about a mid-week adventure and his smile indicated he had been thinking the same thing.
So for now I am tying some streamers too big to show my sophisticated mates who think more of me; and some emergers so small that they belong in something magnetized, so that they don't blow away when you open the fly box at the streamside.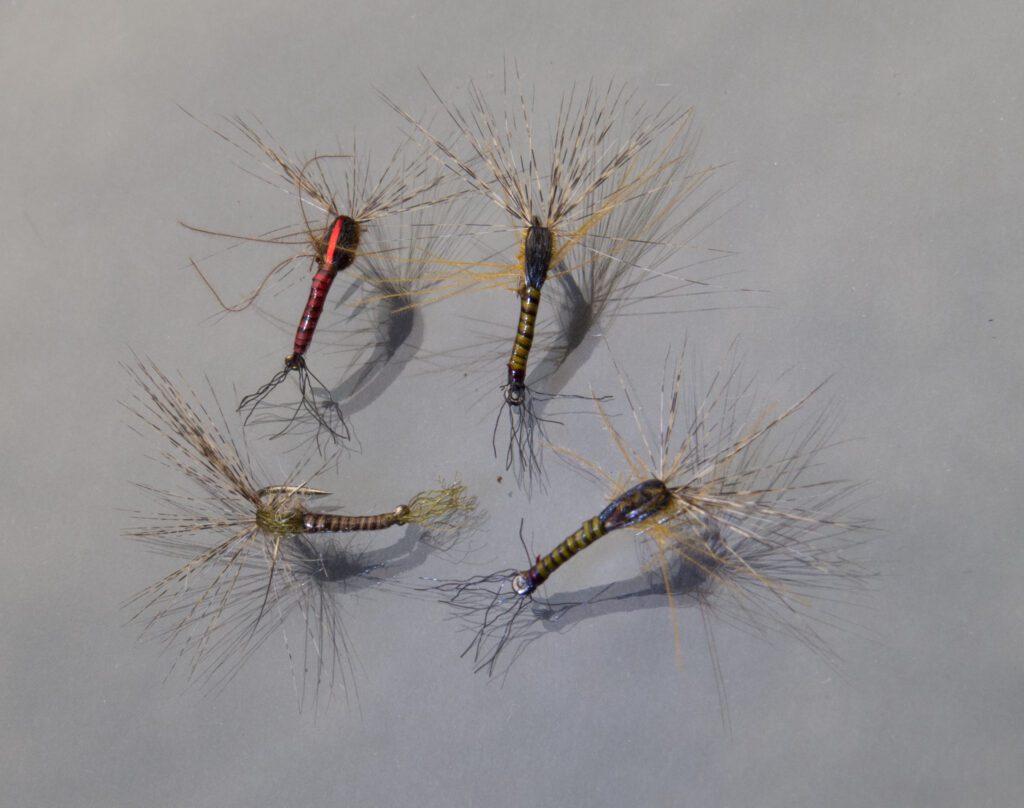 I may tie up something in between just to balance things out.  I've been listening to Paul Proctor's chat with Pete Tyjas on his one hundredth podcast (Well done Pete!) , and I am about to check my tippet spools, and move a bunch of flies from the patch back into the box.  Theodore Gordon's collection of letters and "Little talks" are on my nightstand, and I am just a little inspired.
There will be a 'seven' or an 'eleven' to end this 'flat white', and I will be ready.