Up on Painsacre the water flows clear nearly all the time. There is a chance of Eland, and the baboons cross the river at their favourite spot, often plunging and falling and scrambling through cold white water.  Down on Rathmines things are more sedate. The thalweg flows white into a pool and then it goes slow and deep, or glides quietly over bedrock, all emerald and mysterious.
On Painsacre the mix incudes stonechats and reed warblers in the thick floodplain vegetation. Birds of prey circle high on mountain updrafts. On Rathmines the cuckoo call competes with crickets and frogs in the damp humidity. Rathmines has mud and gravel and angular black basalt. Painsacre has gravel and sand and pale round rocks.
Laurence Catlow writes of "liquid amber, but shot with a darker glow" and "full and shining from the peat". He writes of Oughtershaw and Yokenthwaite and Black Keld, and I have been there and seen that glow, and I see it now on Rathmines. It does shine, and it does glow if you can catch it in mid-summer on settling flows when the silt has settled.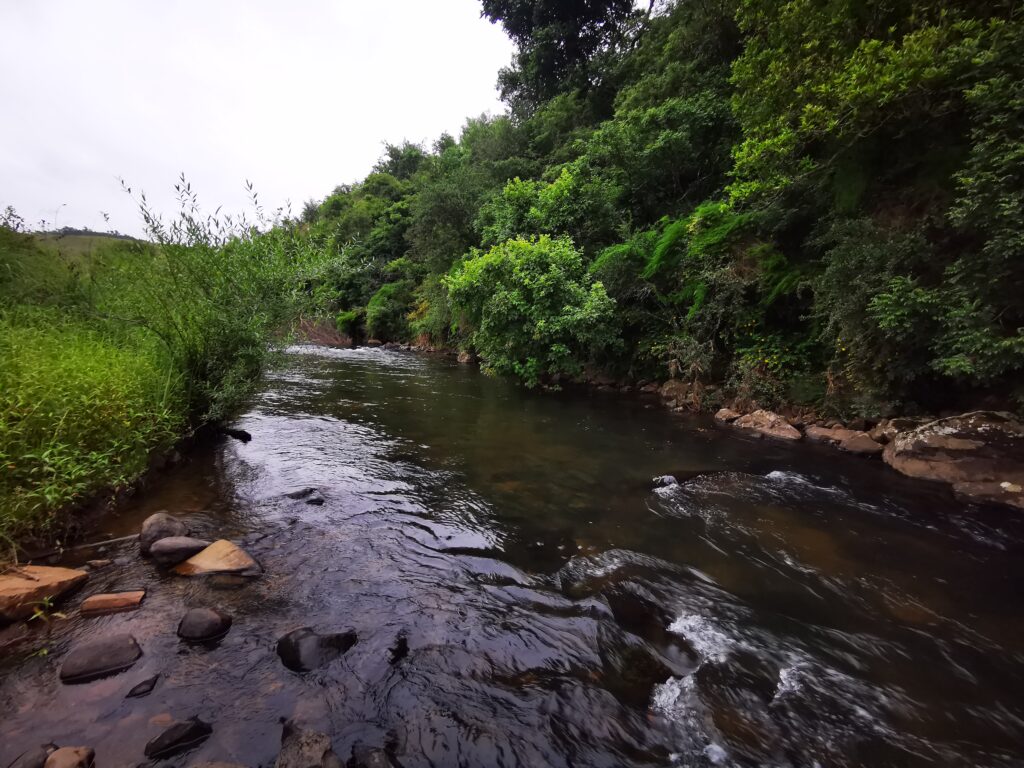 Painsacre is almost all gin, but sometimes it is grey and fierce for a few hours.
In the mountains last week, I spooked a fish from a deep flow that wrapped past a steep bank jutting into the river. I had been trying to get my fly in close and hooked an overhanging bush. As I stepped forward into waist deep water a grey shape shot out from the lie I had been trying to reach, and scooted across a piece of pale rock at the bottom. It disappeared into the cover of white water.
On the lowland water I flicked my fly into the run past a rock, merely to keep it out of the forest bushes, and I looked down at my feet to find my next foothold. I had already fished the cushion ahead of the rock…thoroughly. That's why I wasn't looking when the fish took the fly, and felt the jerk as I flicked back the rod tip to re-cast.  The fish scooted across that yellow-black glow in a small pool of light ahead of me, and I saw it disappear into the shade of the forest.
At Bird Pool, the two Browns which took my dry fly, appeared from nowhere in the white water and thumped the imitation hard. I didn't see them coming. I hooked one of them.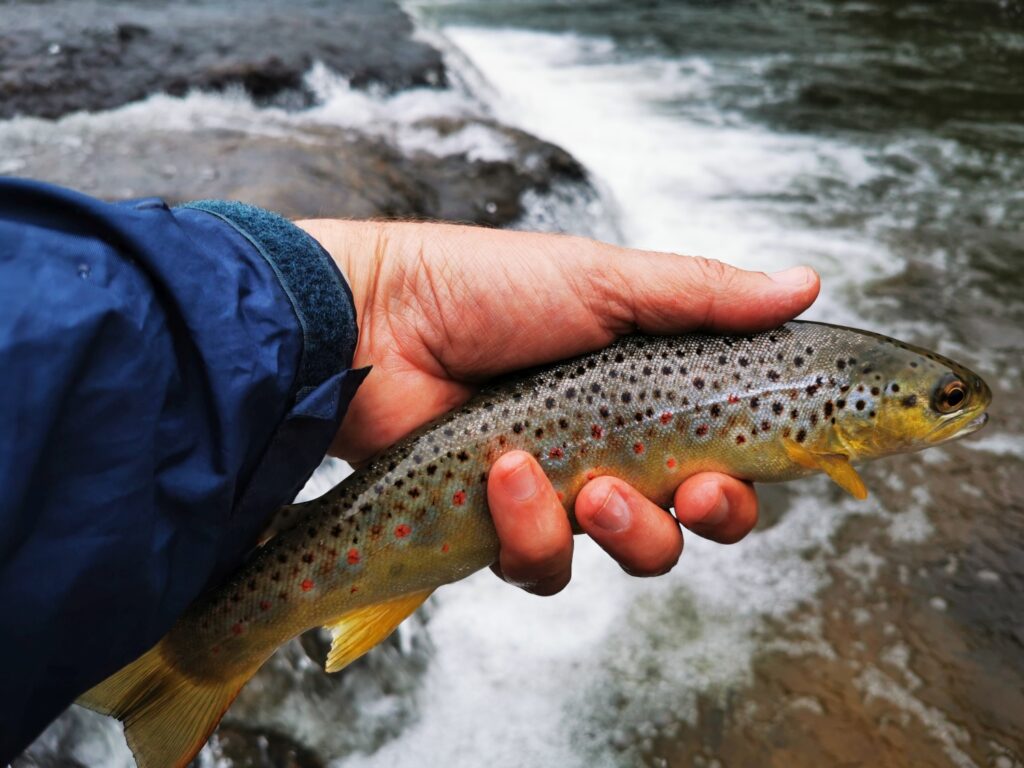 Last week I typically saw the fish as they came for the fly. The sun lit them, and they were plain to see. I missed more than half of them.
Painsacre took 3 hours to reach. Rathmines 40 minutes. Both were a welcome escape. One of them was for a long day that had me sleeping like a log that night, the other was an interlude for a little over an hour, as I was in the area anyway.
They are both healing streams.