I will always be grateful to my parents for understanding and embracing my passion for flyfishing. An example of how they did that, was in late March of 1983, when they built in a stopover at a fishing venue en route to visit family in the Eastern Cape. We stayed at a farm cottage of sorts for a night or two and tried some waters around Kokstad, which included the Umzimhlava river. "The river was muddy and Dad and I fished it all Sunday morning _ no fish". I clearly remember the hosts scrambling to retract their boasts of their establishment as a fine fishing venue, and saying that they thought only the most skilled fishermen were likely to extract a Trout from it. Might I say, that I have become a little more adept at spotting this type of BS when I see it nowadays.  Venues who have borrowed an image from somewhere in Montana for the front of their brochure, and others who drop in references to fine flyfishing for Trout next to an image of a mud fish taken on a Mepps:  we have all seen them. Crystal dam at Mount Currie was little different. Too many bluegill, bass and powerboats, was the essence of my entry in my journal, although I did manage a Trout on a hopper imitation.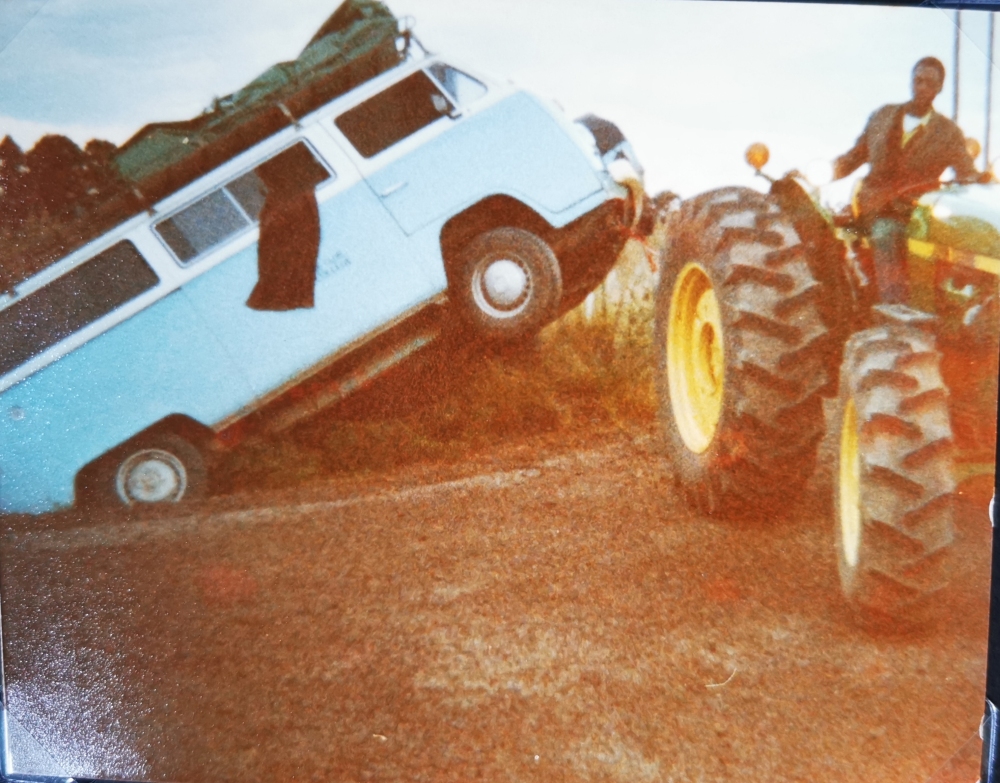 Mount Dragon on the other hand, was at the other end of the spectrum.  It was a school boy's flyfishing trip in late March of 1985, and we had been directed to a particular dam. The schoolmaster, who shall remain un-named, managed to reverse the school Kombi into a ditch, just off the main road  in the early morning mist. As the mist lifted, he was quick to hang a towel over the school logo on the side of the vehicle to avoid having to report the incident. A passing tractor pulled us out, and after being sworn to secrecy (sorry Sir!), we headed for the dam that had been arranged for us. On arrival, we found fish going nuts. The record reflects that by dragging a Black Wooly Worm through the rising fish on a sinking line, I managed two of these small stockies. I remember my mates doing a lot better, which elicited a lot of excited whooping. That also woke the owner of the dam, and our interlude came to an abrupt end, amid red faces, and stern language. We were on the wrong dam!
On 22nd of  March 1987 a bunch of NFFC club members arrived to fish the newly opened dam on our family farm, Corrie Lynn in the Dargle. I accompanied them, but the record shows that none of us were able to catch a fish, despite a multitude of stockies rising enthusiastically.
The following year, on the last day of March, Colin, Conrad, Malcolm and I were on float tubes on Prairie dam in water as warm as it had been on Corrie Lynn the year before (22degrees C!) . Interestingly I see I was fishing a 5 weight outfit by that time, my previous entries having shown 6 and 7 weights.  Our lines were all double taper back then, or certainly the ones I owned. The day was hot and cloudless all the way through to 4pm when a thunderstorm chased us from the water. Three of us had caught a fish each by the, Conrad's being a Brown.
Skipping forward to 1995, there is an unremarkable entry in my journal for 21st of March, but it reflects a few things: Firstly, the Rey Estates main dam was then an NFFC water. Secondly, I recorded that we had ony had 48% of our average summer rainfall that summer, and the dam was low, and off colour due to wave action. Not unexpectedly, the record shows that Ron O'Donoghue and I retired to Notties pub!
In the same week of the following year, I was at Little Falls dam, but on that occasion, the dam was very full and overflowing, and there was evidence that the water had recently flowed right over the dam wall. The spillway was also badly damaged.  We didn't so much as see a fish.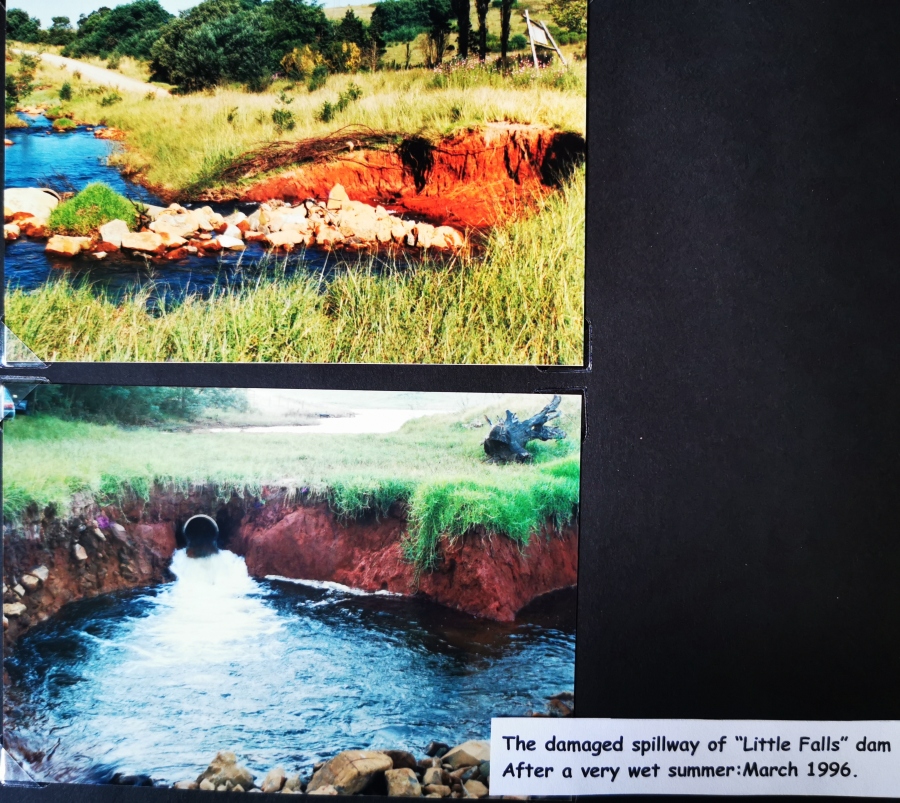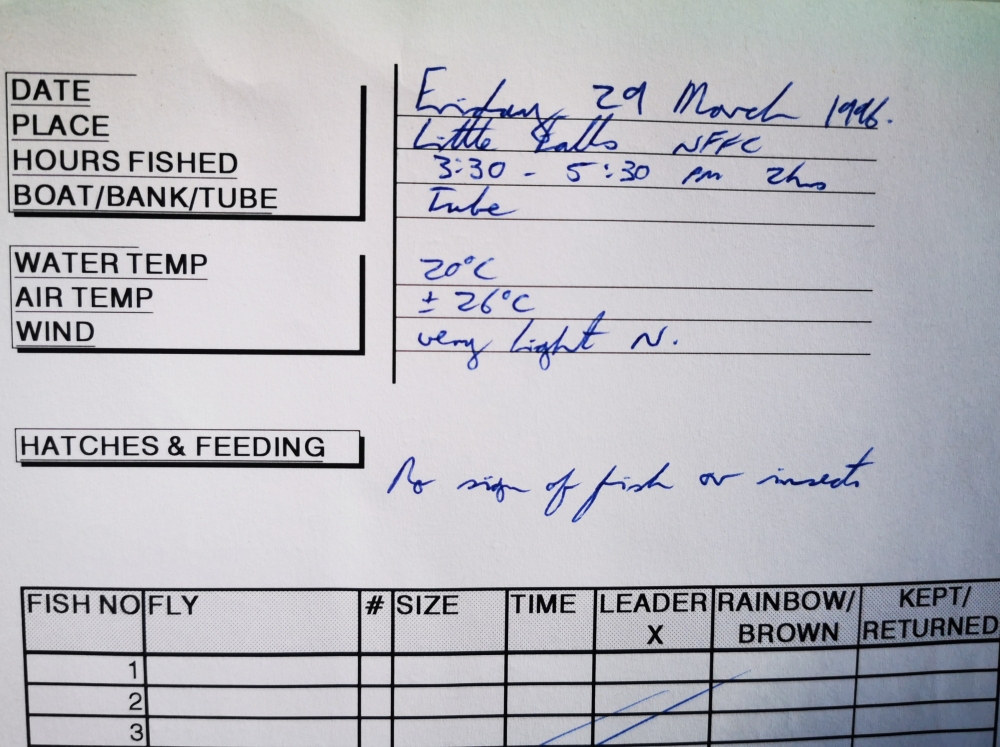 I notice that that entry in my logbook was the first one in which I had taken my dutifully hand written format used up until that point and generated it as a computer printed template. The format has changed very little ever since.
In late March 98 I was on Reskadinnick (does anyone remember that NFFC water?) for a slow and hot afternoon with no wind, but one small Rainbow.
In 2001 I took my boys up to Strathmore for a boys week-end. They were little fellows, so fishing was extremely limited. I re-read "The River Why"  while they played, and on one day we did the Pholela, where they took our little fibreglass canoe, paddled down the multiple switchbacks on an Nchishi lined section of river, and got thoroughly lost, causing the father much stress and scuppering any thought of fishing. They were found after many hours, with memories built and no harm done and I learned something about how  easy it is to lose someone on a heavily wooded Trout stream!
In 2003 I was playing coach to kids again, this time a little older, and capable of catching a Trout or two, which they did. It had been a long hot dry spell of some 8 weeks, but a 45mm rainshower preceded our trip to the Mooi at Riverside, and the temperature was down at a pleasing 15 degrees C. I see I was fishing and catching on a fly I was tying at the time called a Plaited Nymph. It was not that dissimilar to a Zak, and I see on that Saturday, I caught a few fish on each. Nothing big mind you…little fellows from 9 to12 inches, caught during interludes when I wasn't undoing tangles, or the boys weren't swimming in the hotspots.
A year later I was back playing "Sir", but this time there was no call on Win to estimate fish sizes. The boys managed a handful of fish on Elton  and elsewhere.I got nothing at Walter Gilsons, Belmont and Waterford, but on the last day we fished the Ndawane at Gracelands. On that day I got only two small fish, but they were both sighted, stalked and caught on dry flies and that, as you know, makes all the difference. An Elk Hair Caddis and an Adams in #16 and #18 respectively did the business. Interestingly I see I was using 4X. At the time it was my practice to default to 5X on a river, but I see that the river was running down after a flood and was off colour. Perhaps I was also expecting the odd big fish run up from Curragh…I don't know.
The 2005 boys trip was a week earlier, and I wrote about that in my piece about the second Decad of March, but in 2006 I was back with the school boys in the last week of the month. On our first day, boys drew a blank at Blore's dam, as did we at Banchory. I did however, have a few heart-stopping follows by big fish, and one that clobbered the fly….probably side on. My fly came back with a chunk of unidentified flesh and scales on it! The following day (25th March 2006) saw us on the Ndawane again, on a grey cool day, with water temperature an estimated 16 degrees C. I did better that year with a couple of small fish and one beaut of 15 inches, all on a #14 ZAK.  That fish, caught much higher up that where we had fished in prior years, was a strong fellow which took a flying leap, straight out of the slate coloured and strongly flowing fiver, onto the black rocks at the head of the pool, before rolling back into the river.
The following day at Banchory, young Jac Aldous landed a seven pounder , as did Mike Pond, and I see Matt Worral missed a similar fish. I managed to land two of them….both recorded as "six and a half pounds" (thank you Win! ). The second fish took more than half my backing!  Both fish gfell to a brown FMD.
The following year saw me alone at Highmoor for 5 hrs on my float tube on a Friday late in March. The top dam was a little off colour after week of big winds in hot weather. But after a big cold front days earlier the water temperature was down at 17 degrees. I tried a big FMD, and a big nasty Woolly Bugger on 1X Maxima. I must have had big fish on my mind, and clearly little finess!  The bugger was halted by a strike I described at the time as being "like a Rotweiller taking a cupcake", but the fish was not the trophy I seem to have been hunting. It was just three pounds.
The next day Roy and I tried the Little Mooi at Stagstones. I fished with a lot more finess that day, and a ¾ weight outfit. It didn't yield any fish. We both blanked, but it was a fun day exploring the beat and enjoying pleasant warm weather, cool clear water, and great company.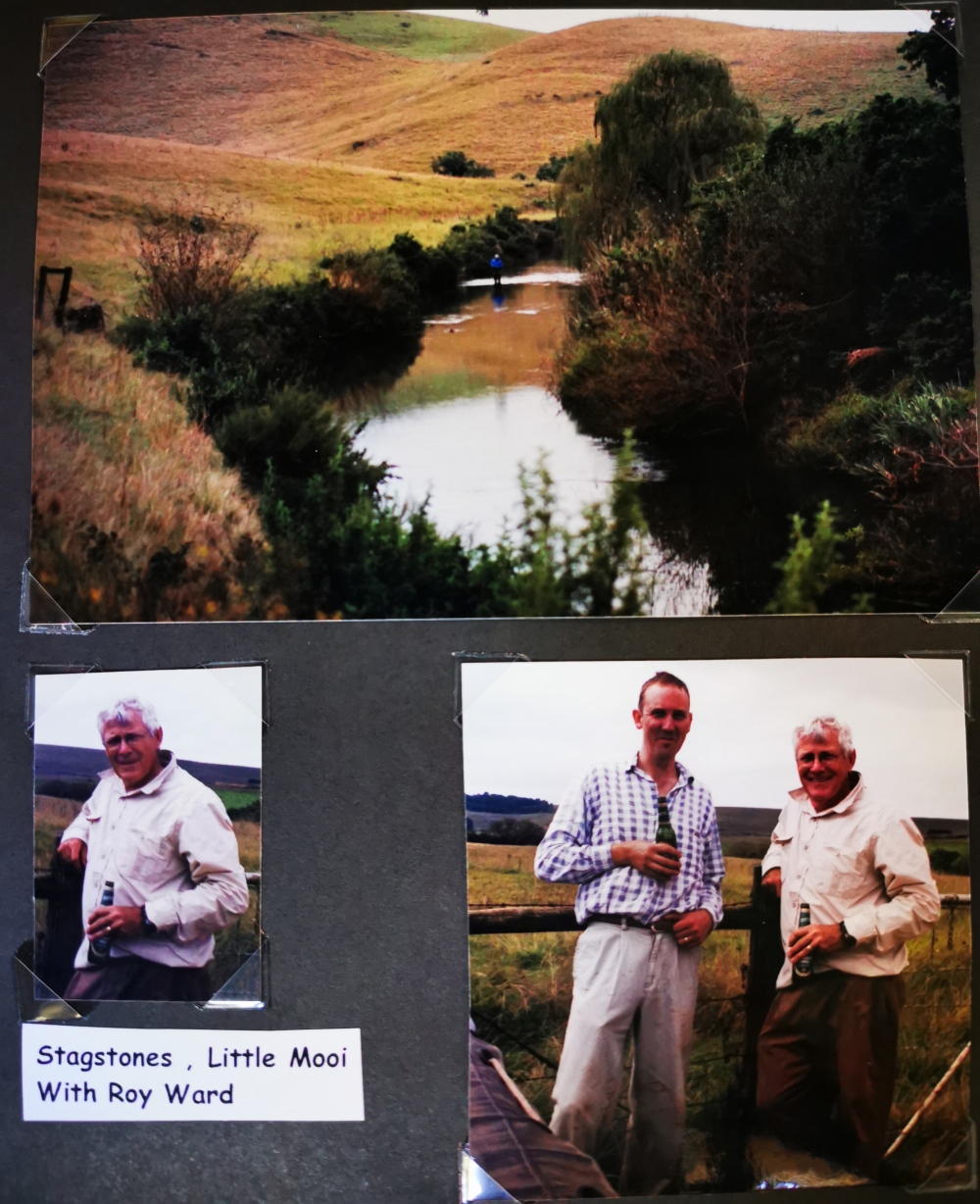 In 2008 we were attending Splashy Fen, but in a very civilised way, staying off site in the cottages at XL farm. On one morning we snuck away to join the Smith family at their little berg hideaway on the uMzimude. The river was full and cool, and in fact there was a light sprinkling of snow on the berg after a storm the night before. The weather is described a s"beautiful" in my journal.  The river was up, and slate grey and it was difficult to get the fly down, but I got a number of spirited Rainbows from 6 to 10 inches on a #12 Zak. My friend Johnny got his first Trout. We were back at the cottage with our wives from brunch two hours later.
In 2009 Dave and I had a superb day out on "Baboon dam" at the top of the uMngeni catchment. We fished the afternoon, and on into the dark, catching Rainbows from less that a pound up to four pounds. I estimated I got 13. Dave got nearer 20, most of them on a hopper imitation fished off the dam wall. Many of mine were on the dry fly too.  I was using a black cricket imitation to start with, but later switched to a brown FMD.   It was interesting in that a fairly "stroppy" NE wind blew right through the evening, but the fish kept rising at everything and anything. One of Dave's fish which we kept had in its stomach hoppers, beetles, dragonfly nymphs and a frog!
The following year I snuck up to another dam on the same farm for a quick morning's fishing. On arrival there were a number of fish rising off the wall, but I succeeded only in putting them down.  Realising that these fish were skittish in the clear water, I took up a position behind and beside a lone tree fuscia on the east bank.  There I spotted and cast to numerous fish in "some of the most enjoyable sight fishing I have had in ages". I ended up with six fish in all, and all but one were taken on the dry: a #10 black DDD.  I will long remember that lesson in stealth and cover. Importantly I realised that you don't have to be behind the bush in question….you can merely stand beside it in its shade.
On the 21st March 2011, Mike Kitshoff and I went up to Furth on the uMngeni. We had an unremarkable day, but one which is stuck in my memory. The banks were rank, with lots of bramble around. The water was off colour from a storm the night before, but it was 17 degrees and I felt in my bones that the browns should have been throwing themselves at our flies, like they often do in late March. But we did poorly. Mike blanked and I got two small fish, which were not fat.  The memories and the photos are full of wattle trees. It bugged me. Badly.  The rest , as they say, is history.   There are no longer wattle trees on Furth. I am off to fish it tomorrow, for the umpteenth time. It is a very special place to me.
A week later I was on Highmoor: Petro and I camped there for the night, and on the Saturday I got in a few hours on the lower dam.  I concentrated on the shallows, where I inched small flies back to the tube with concentration and great faith. The net result was only one fish, taken on a cased caddis. In my notes I postulated that the warm water was the problem. Unlike the uMngeni a week earlier, and despite rain drumming on our little tent the night before, the surface water reached a temperature of a little over 20 degrees!
The following year I was on an exploratory trip on the diminutive Elands River near Boston. I was there to update the club map, but of course I did my full duty and got in some fishing. I was pleasantly surprised at the rockiness, and appeal of the water. It was very "Trouty", but I didn't  get any fish. I keep meaning to go back.  While I have no doubt that the timber plantations now growing in the headwaters, and the much expanded agricultural activity an irrigation must have had an effect, I cant ignore how popular and productive this stream used to be.
On the same day the following year (24th March 2013) I introduced my friend Graeme to Reekie Lynn on the Mooi. I remember Graeme had tow little day packs, and before we started he asked me which one he should use, the blue or the red. I suggested the red, because I knew it would look good in the pictures. I was very focused on getting good pictures at the time because my Dad and I had a wonderful father-son thing going, where I would photograph with his oil painting scenes in mind. I have a painting of Graeme in my study now….red backpack and all.
It was a tough day, with brassy light, and a blustery wind. Pre-frontal: the front arrived at eight that night. I landed only one fish of 14 inches, and lost a few. Graeme got three, including one that went 18 inches. Lets just say that he has been a Reekie Lynn fan ever since.  That day the river flow was down a little, and the rocks were slippery, but more significant was the wattle. Not unlike the 2011 experience these wattles got under my skin. This happened not so much on the day, but on the following day back home when I was editing the photos. I tried cutting out all wattles from the pictures and I couldn't. I felt a little like my uncle did the time he instructed his barber to cut out the grey, and was informed that this was no longer a possibility!  Either way, I started mobilising to get the wattle under control.  That eventually happened in 2018. I was back on the river two days ago getting the felling crew going for a further follow-up exercise. It is a very special place to me (and Graeme).
The following Saturday I was back at Baboon dam, this time for a casual picnic with friends, but as always, with a fly rod tucked into the luggage. I fished for an hour or two and managed to fool one rising fish on a #18 Adams.
In 2015 a couple of us spent a week-end on the uMkhomazi. I managed to get up there early on the Friday, and get in a few hours, but without success. The water was surprisingly warm that day (20.5 degrees C), but after cool mist and drizzle that night, the river was a lot cooler for the following two days. I managed two lovely fish on the second day, both on a #16 Troglodyte. Remarkably one of them was pricked on the first drift, but it took the fly a second time. I don't know that that has ever happened to me before or since! Another in our party was sticking with the dry: an oversized para RAB. His first day with this didn't yield results, but on the last day he raised four fish on it. The others got a scattering of fish, including one that went 18 inches, but the place wasn't exactly prickling with fish. As so often happens there, we went through many a pool or run without result, only to find one small piece of water where there was a fish coming up to the fly for 4 or 5 casts in a row, and of course you are never ready for that if the several hours before were without action.
Late 2015 and in to 2016 we were in quite a severe drought period, but my records show that in early March the dams were filled with wonderful rains. This put three of us in hopeful spirits on a late March day in 2016 when we tackled a Stillwater in the upper uMngeni catchment, but it was not to be.
In late March of 2017 I spent a day on the tube at Rainbow Lakes at the kind invitation of my friends Dave and Nunu O'Connor. I say a day, but the record reflects a long and leisurely lunch that didn't end until 4 pm! It was a cold blustery day of cloud and drizzle, and followed a 25 mm storm the night before, which might explain the leisurely lunch in the confines of the cozy cottage. But I did put in a few hours in the morning in 19 degree water, and landed four strong 16 inch Rainbows on a Pappa Roach. Some of the other guests did better than me, and I remember someone doing well where the water spills from the top dam into the lower one: a renowned hotspot with good calling water!
2018 saw Rogan and I back at Reekie Lynn on the 21st March for a few hours fishing before we were driven off by a storm. It was hot,  clear and still  before the storm, but the river was flowing full and emerald green, and cool at 16 degrees. I lost and then landed a good fish in the pocket water below Krantz pool:  a fantastically productive piece of water which seldom disappoints. I remember that the one I hooked, got below me. Knowing how treacherous the wading is there, and mindful of an almost dangerously high flow, I stood where I was and muscled the fish back upstream to my position on the 6X tippet with my heart in my throat. How that fish stayed on, and how that tippet didn't break, I have no idea! After three smaller fish, the storm seemed imminent, and I went off upstream to find a safe place to cross back to the same side as Rogan. We decided to hightail it back to the bakkie, but the storm broke before we got there. I whipped out a new rain poncho from my backpack, feeling very smug about this new piece of equipment. In the end it billowed like a sail in the strong wind, and despite help from Rogan we never really tamed the thing. I arrived at the bakkie looking like Rogan:  two drowned rats!
That storm and the ensuing front dropped over 100mm of rain. So 3 days later, when I ventured up to West Hastings, I found the dam very full, with the spillway roaring. I fished alone from my canoe (Waelcyrge) in pleasant warm weather, and managed 5 fish of around two to three pounds. I got thise on a #8 olive FMD.  Come afternoon there was one of those ridiculously prolific ant hatches. The fish went dilly, and I threw my dry fly box at them. In the end I managed only two fish during the hatch: both on a black DDD.
In 2019, my friend Neil and I had a lovely day on the Mooi at upper Riverside. The fish weren't big (5 to 12 inches), but all 30 or so that we got between us were on tiny dries. Almost all of them were fished-to rises.  The day had started with a lieseurely breakfast on the way out there. We first went to Reekie Lynn, where we had planned to fish, but found it dirty, so went further up. We only got to the water around 9:30 in the morning. It was a day pregnant with rain, and rolling thunder all day long.  I started out out with a Puterbaugh Caddis. It was a terrible tippet twister, but the fish wanted it, so I stuck with it for a while. Later I went to an RAB, then a hopper, and ended the day on a #18 RAB, with a tiny nymph off the back. The fish ignored the nymph. By around 3:30, I told Neil that my cup was full. I reeled in, and watched him catch a few more, and then we left with smiles on our faces, and a fullness in our hearts.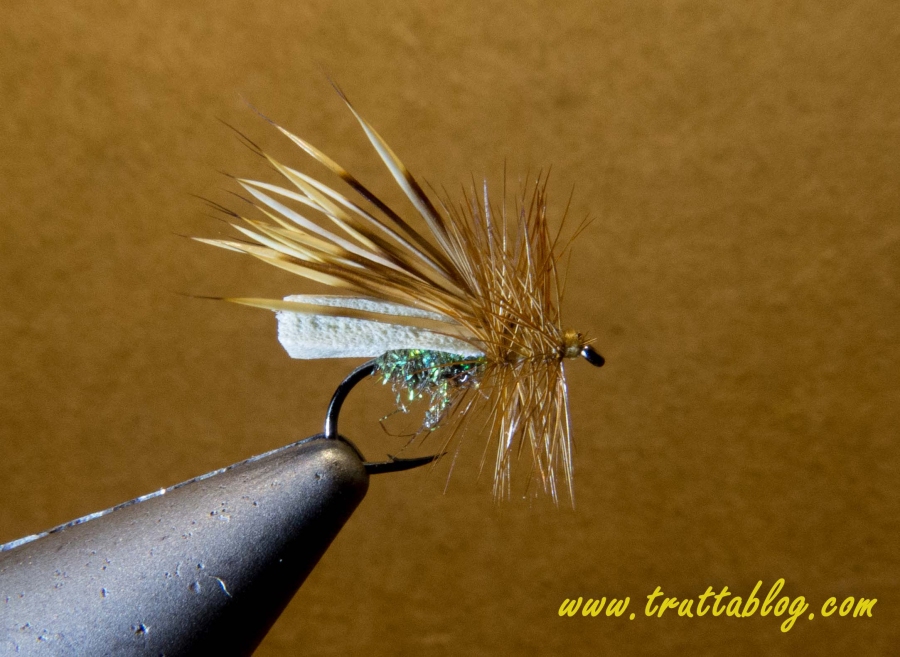 A year later to the day, my friend Sean and I went off to explore the Furth stream, and to prove to ourselves, and the world, that there are Trout in it.  There are!
Of course 3 days later COVID hit, and all our fishing had to be particularly clandestine .
In 2021, Neil and I set out to repeat our 2019 experience on the Mooi, this time on Game Pass. These things seldom go according to plan, but against all odds, we pulled this off. The days started a bit slow, but as we went higher, and off the trodden path it got better and better. It was a gloomy dark day with heavy cloud, and never got above about 18 degrees C. The water was 15 degrees at 10 am. We ended up at a particular pool, where in the gathering gloom we made pigs of ourselves. At one point I was waded in at the tail of the pool, and Neil was at the head, barely 20 metres away, and we were both catching fish hand over fist on tiny dries. They weren't too bad in terms of size either….most went 10 inches with a few better ones in the mix.  
A week later…on the last day of March, I shot up to Kumalungana on my own and had four hours of bank fishing in yet another crazy ant hatch. The weather was autumnal and heavenly, but the fish were maddeningly unresponsive to my ant imitations. As happens though, I caught a few on various other patterns, none of which looked anything like the ants they were eating. But four hours and four Trout later in stunning surroundings, how could I complain!
Last year, Ray and I went off  in heavy grey weather to explore a tiny tributary, which shall remain nameless. The stream was very small. The fish were small too. We fooled a lot, and landed fewer…all on dries. Nothing to see here….moving along.
Which brings me to the last 10 days of March 2023:  4 days. 6 rivers. 5 companions, fish to 16 inches.  Perfect conditions. Two never-before explored streams….one successful, one not. Buy me a beer at the next club pub evening and you might get more out of me.